'No information' in disappearance of Chinese artist Ai
Chinese artist Ai Weiwei (艾未未) remained out of contact yesterday after police prevented the combative critic of the Chinese Communist Party from boarding an airplane.
The detention adds to the lengthening list of dissidents held in a security crackdown by a government determined to snuff out any hint of challenges to its power as it approaches a leadership transition late next year.
As an artist who has exhibited in London's Tate Modern and who regularly speaks to Western media, Ai has the highest international profile of the scores of critics detained in the past two months.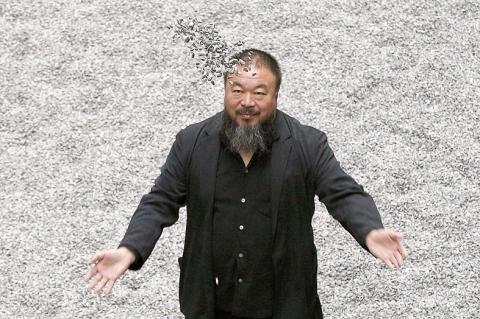 Chinese artist Ai Weiwei throws porcelain sunflower seeds into the air as he poses with his installation Sunflower Seeds, in the Turbine Hall at the Tate Modern gallery in London on Oct. 11 last year.
PHOTO: Reuters
Police searched his studio on the northern outskirts of Beijing, seizing some of the computers in his office, his Beijing lawyer Pu Zhiqiang (浦志強) said.
"They had a search order, but they didn't say what crime he had been accused of," Pu said.
Ai was still not contactable yesterday, more than 24 hours after officials stopped him from boarding a plane to Hong Kong.
"We've had no information whatsoever," said an assistant in his Beijing studio, who asked to remain unnamed. "We don't know what the reason is at all."
She said that she was among a group of eight people in Ai's studio taken in for questioning by police on Sunday afternoon, with the artist's wife and driver later also detained.
Everyone had been released, apart from Ai, and his studio was open again, she said.
"Ai Weiwei wasn't with us. We don't know where he is," she said by telephone. "We hope that he can be released as soon as possible."
REACTIONS
France yesterday called for Ai's release.
"We are very concerned about the fate of the militant artist Ai Weiwei and we are following his situation and that of his family very closely," French Foreign Ministry spokesman Bernard Valero said. "We hope he will be released as soon as possible."
His disappearance drew immediate concern from human rights groups and came after scores of dissidents, activists and rights lawyers were rounded up in recent weeks amid fears authorities are increasingly cracking down on dissent.
Germany yesterday also expressed its "great concern" about the detention of Ai, who was planning to set up a studio in Berlin.
"I learned with great concern that Ai Weiwei was prevented from leaving Beijing on Sunday and has since been held," said German Foreign Minister Guido Westerwelle, who has himself just returned from a visit to Beijing and Tokyo.
Comments will be moderated. Keep comments relevant to the article. Remarks containing abusive and obscene language, personal attacks of any kind or promotion will be removed and the user banned. Final decision will be at the discretion of the Taipei Times.