Libya declares ceasefire after UN vote
TUB-THUMPING After Qaddafi earlier declared his intention to crush the rebels once and for all, it was left to the Libyan foreign minister to announce the regimes climbdown
Libya declared an immediate ceasefire and promised to stop military operations yesterday in a bid to fend off international military intervention after the UN authorized a no-fly zone and "all necessary measures" to prevent the regime from striking its own people.
The announcement by Libyan Foreign Minister Moussa Koussa followed a fierce attack by Libyan leader Muammar Qaddafi's forces against Misrata, the last rebel-held city in the western half of the country. A doctor said at least six people were killed.
The UN Security Council -resolution, which was passed late on Thursday after weeks of deliberation, set the stage for airstrikes, a no-fly zone and other military measures short of a ground invasion. Britain announced that it would send fighter jets and France was making plans to deploy planes, but the US had yet to announce what its role would be. NATO also held an emergency meeting.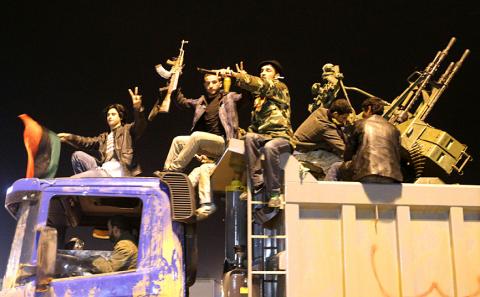 Anti-government rebels celebrate in Benghazi, Libya, on Thursday. The Libyan government is ready for a ceasefire with the rebels, but wants to discuss in advance how it would be implemented, Libyan Deputy Foreign Minister Khaled Kaaim said in Tripoli.
Photo: AFP
With the international community mobilizing, Koussa said the Libyan government would cease fire in line with the resolution, although he criticized the authorization of international military action, calling it a violation of Libya's sovereignty.
"The government is opening channels for true, serious dialogue with all parties," he said during a news conference in Tripoli.
The attack on Misrata, Libya's third-largest city, came as the rebels were on the defensive in their eastern stronghold after Qaddafi vowed to launch a final assault and crush the nearly five-week-old rebellion against him.
The opposition expressed hope the UN resolution would help turn the tide in their favor after days of fierce fighting.
"We think Qaddafi's forces will not advance against us. Our morale is very high now. I think we have the upper hand," said Colonel Salah Osman, a former army officer who defected to the rebel side.
He was speaking at a checkpoint near the eastern town of Sultan.
Qaddafi had earlier vowed to crush Libya's revolt with "no mercy, no pity."
In an interview with Portuguese television broadcast just before the UN vote, Qaddafi pledged to respond harshly to UN-sponsored attacks.
"If the world is crazy," he said, "we will be crazy, too."
The Libyan government closed its airspace to all traffic yesterday, according to Europe's air traffic control agency, Eurocontrol.
Government tanks rolled into Misrata, 200km southeast of Tripoli, early yesterday, shelling houses, hospitals and a mosque for several hours before pulling back to the city's outskirts, witnesses said. At least six people were killed, raising the total death toll in two days of fighting to nine, a local doctor said.
Misrata is the last rebel holdout in the western half of the country after Qaddafi recaptured a string of other cities that had fallen to the opposition early in the uprising that began on Feb. 15.
Its fall would leave the country largely divided, with the rebels bottled up in the east near the border with Egypt.
The city has been under a punishing blockade that has prevented aid ships from delivering medicine and other supplies, the doctor said.
"They haven't stopped shelling us for a week — we sleep to shelling and wake up to shelling. They are targeting houses and hospitals," he said, adding the hospital had been overwhelmed.
"We have had to perform surgeries in the hallways using the light from our cell phones to see what we're doing. We are also using some clinics around the town, some only have 60 beds, which isn't enough," he said.
Another doctor said Qaddafi's forces had surrounded some neighborhoods and were shooting at people who ventured out of their homes.
Comments will be moderated. Keep comments relevant to the article. Remarks containing abusive and obscene language, personal attacks of any kind or promotion will be removed and the user banned. Final decision will be at the discretion of the Taipei Times.