Airport radiation checks discover no health risks
Military personnel were stationed at Taiwan's airports yesterday to help check for radiation contamination on incoming passengers.
A total of 42 chemical hazard specialists from the military joined Atomic Energy Council personnel, who have been deployed at airports in Taipei, Taoyuan County and Greater Kaohsiung since Tuesday checking for the presence of particles of radiation on incoming travelers, Army Command Headquarters said.
Meanwhile, at a military school in Taoyuan, soldiers conducted a drill removing radioactive particles from people's bodies, clothes and vehicles.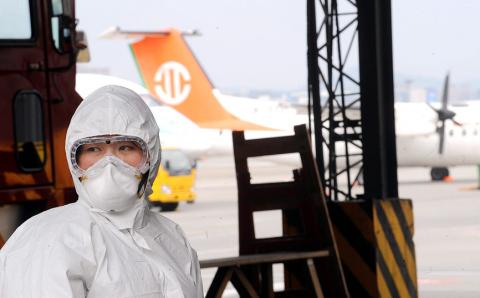 A member of the army's Chemical Corps, clad in a radiation suit, waits at Taiwan Taoyuan International Airport yesterday.
Photo: CNA
On Tuesday evening, authorities set up scanning equipment at Taiwan Taoyuan International Airport, Taipei International (Songshan) Airport and Kaohsiung International Airport, and as of yesterday afternoon, more than 4,400 people arriving from Japan had been tested, 26 detected with mild radiation contamination that posed no health risk, the council said.
"Most of the radioactive particles were discovered on their shoes or clothes," an official said.
All were allowed to leave after they had changed their shoes or clothes, or had the affected items washed, he said.
Atomic Energy Council Deputy Minister Shieh Der-jhy (謝得志) said that all detected particles so far were within safe levels and could be washed away by passengers.
He told reporters at the legislature that his agency might impose compulsory radiation detection at airports if the situation worsens.
However, Shieh assured the media that "we have not reached that stage yet."
Officials have also begun screening food imported from Japan for radioactivity, even though officials have said they believe Japanese food products being imported were produced before the earthquake struck.
In related news, Taiyen Biotech Co, the former state-owned salt company, announced yesterday that it was suspending iodized salt exports in light of a potential radiation release from the stricken Fukushima Dai-ichi nuclear power plant in Japan.
The salt producer has ramped up production of iodized salt, while suspending exports and forbidding hoarding by distributors and retailers, Taiyen chairman Hung Hsi-yao (洪璽曜) said at a press conference in a bid to ease fears about a potential shortage of domestic salt supplies.
The number of foreign buyers interested in Taiyen's iodized salt has increased dramatically in the past two days, mostly in China, Huang said.
Taiyen had intended to offer iodized salt to Japan, but since Japan has its own salt factories, the company has decided to focus chiefly on domestic supply.
Additional reporting by AFP
Comments will be moderated. Keep comments relevant to the article. Remarks containing abusive and obscene language, personal attacks of any kind or promotion will be removed and the user banned. Final decision will be at the discretion of the Taipei Times.