Hundreds of thousands urge Mubarak to go
EGYPTIAN DEADLINE: Mohamed ElBaradei told al-Arabiya satellite TV that he had heard the protesters want the president out of office by Friday at the latest
More than a quarter-million people flooded into the heart of Cairo yesterday, filling the city's main square in by far the largest demonstration in a week of unceasing demands for Egyptian President Hosni Mubarak to leave after nearly 30 years in power.
Mubarak should step down by Friday, Mohamed ElBaradei, who is emerging as a leader of anti-regime protests, told al-Arabiya satellite channel yesterday.
"What I have heard [from protesters] is that they want this to end, if not today, then by Friday maximum," ElBaradei said. "I hope President Mubarak goes before this and leaves the country after 30 years of rule ... I don't think he wants to see more blood."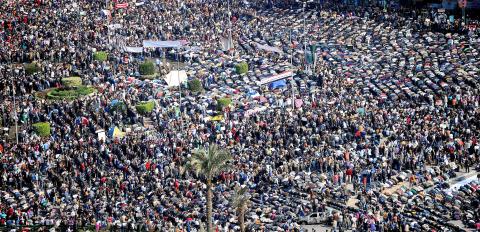 People gather to protest and pray in Cairo's Tahrir Square yesterday as part of a massive demonstration against Egyptian President Hosni Mubarak.
Photo: EPA
Asked about Egyptian Vice President Omar Suleiman's offer for dialogue with the opposition, ElBaradei said he supports "a national comprehensive dialogue" but not before "the departure of President Mubarak."
He also called for a safe exit for Mubarak, adding: "We're going to turn the page, we can pardon the past."
As he spoke, protesters continued to stream into Tahrir Square (Liberation Square), among them people defying a government transportation shutdown. The peaceful crowd was jammed in shoulder to shoulder — schoolteachers, farmers, unemployed university graduates, women in conservative headscarves and women in high heels, men in suits and working-class men in scuffed shoes.
Hundreds of thousands of protesters also marched in Alexandria, with more protests reported in Suez, the southern province of Assiut, the city of Mansoura north of Cairo, and Luxor.
The military promised on state TV on Monday night that it would not fire on protesters, a sign that army support for Mubarak may be unraveling.
"This is the end for him. It's time," said Musab Galal, a 23-year-old unemployed university graduate who came by minibus with his friends from city of Menoufiya.
The protesters were more organized than on previous days. Volunteers wearing tags reading "the People's Security" circulated through the crowds, saying they were watching for government infiltrators who might try to instigate violence.
Authorities shut down all roads and public transportation to Cairo, security officials said. Train services nationwide were suspended for a second day and all bus services between cities were halted. All roads in and out of the flashpoint cities of Alexandria, Suez, Mansoura and Fayoum were also closed.
The official death toll from days of protest stood at 97, with thousands injured, but in Geneva, UN High Commissioner for Human Rights Navi Pillay said up to 300 people may have been killed and she called for calm during yesterday's protests.
"Casualties have been mounting on a daily basis, with unconfirmed reports suggesting as many as 300 people may have been killed so far, more than 3,000 injured and hundreds arrested," Pillay said yesterday in a statement.
Her spokesman Rupert Colville said the unconfirmed toll came from NGOs.
JORDAN
Meanwhile, King Abdullah II of Jordan yesterday sacked the government after weeks of protests, but his choice to head the government failed to satisfy the powerful Islamist opposition's demands for reform.
The king named Maruf Bakhit to replace Prime Minister Samir Rifai, with orders to carry out "true political reforms," the palace said.
Comments will be moderated. Keep comments relevant to the article. Remarks containing abusive and obscene language, personal attacks of any kind or promotion will be removed and the user banned. Final decision will be at the discretion of the Taipei Times.