Ma visits executed man's family
President Ma Ying-jeou (馬英九) yesterday visited the family of Chiang Kuo-ching (江國慶), who was wrongfully executed by the military 14 years ago for the rape and murder of a five-year-old girl, and promised to clear Chiang's name in a speedy manner.
Ma apologized to Chiang and his family on Monday through Presidential Office spokesman Lo Chih-chiang (羅智強), as well as a posting on his Facebook page.
After visiting the family, Ma told reporters that Chiang's mother and uncle said they cared more about clearing his name than receiving compensation.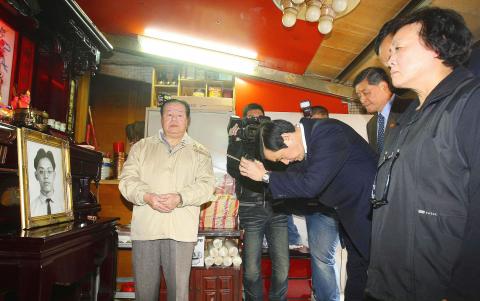 President Ma Ying-jeou bows yesterday as he pays his respects to the altar of Chiang Kuo-ching, together with Minister of National Defense Kao Hua-chu, third right, and Chiang's relatives, at the Chiang family home in Taipei.
Photo: Reuters
"I have instructed the Ministry of National Defense and Ministry of Justice to fully assist the family so Chiang can be declared innocent and his family obtain compensation," Ma said. "Minister of National Defense Kao Hua-chu (高華柱), who is also here today, will also do his best to help the family get its wish."
Ma said his visit and apology demonstrated his administration's willingness to help the family see its requests fulfilled.
"The public must realize that my visit today clearly indicates that Chiang is innocent," Ma said. "This fact has been confirmed by the investigations of the Control Yuan and Taipei District Court."
The family's wish that Chiang's conviction and death penalty be revoked has to proceed in accordance with the law, but he promised the process would not take five or 10 years, Ma said.
"A retrial is probably the least time-consuming, but we will do our best to shorten the process," he said.
However, he declined to specify how long it would take, saying he would ask the justice ministry to provide an estimate.
He also dismissed speculation that Chiang could not be declared innocent until another suspect, Hsu Jung-chou (許榮洲), has been proven guilty.
Taipei prosecutors arrested Hsu, who has a record of sexual offenses, as a suspect in the case on Friday.
Ma said the new evidence discovered could be used against Hsu at a retrial and clearing Chiang's name should be dealt with separately from proving Hsu guilty.
Chiang was executed on Aug. 13, 1997, but his family continued to fight to clear his name.
A Control Yuan report on its investigation said that in notes Chiang wrote in prison, he recounted being threatened with an electric baton, exposed to strong light and forced to undergo physical activity all night during his interrogations.
In letters Chiang sent to his family while in prison, he wrote that investigators told him "the chief [then-head of air force command Chen Chao-min (陳肇敏)] is coming to see you. When he arrives, remember to kneel before him and ask for help. The chief will save you."
About 30 military officials involved in Chiang's arrest, trial and execution are facing criminal and administrative investigations, including Chen.
While Chen also served as minister of national defense under Ma, the president said he was in no position to say whether Chen or other military personnel involved in Chiang's case had been guilty of negligence or should be held legally responsible for his wrongful conviction and execution.
Chiang's case has prompted Ma's long-time friend C.V. Chen (陳長文), the president of Taiwan's Red Cross Society, to urge the government to consider abolishing the death penalty.
Ma said his administration was willing to gradually try for abolition because the public remains polarized on the issue.
Comments will be moderated. Keep comments relevant to the article. Remarks containing abusive and obscene language, personal attacks of any kind or promotion will be removed and the user banned. Final decision will be at the discretion of the Taipei Times.