Taipei 101 fireworks display heralds the New Year
BANG! IT'S 2011: Seeking to dazzle spectators, Taipei 101 was presenting a 288-second-long firework display which included a 'Spiraling Dragon of Auspiciousness'
About 800,000 people crowded the streets around Taipei City Hall last night to welcome in the New Year as the Taipei 101 fireworks show and an all-night pop music concert turned Xinyi District (信義) into a big festival.
Braving chilly winds and temperatures as low as 5oC, revelers started to gather at Taipei City Hall plaza early yesterday morning as they tried to secure a spot with the best view of the party and the fireworks show.
Seeking to dazzle spectators even more in its seventh year, Taipei 101 was presenting a 288-second-long firework display featuring 12 programs of festive themes, including a "Spiraling Dragon of Auspiciousness," in which fireworks were to spiral around the building to the top, creating an image of a golden dragon.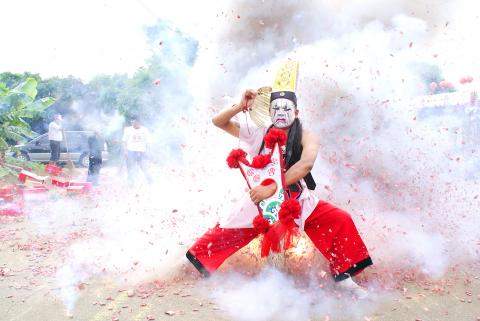 A member of the Eight Generals performance group stands his ground as firecrackers go off around him in an innovative version of the Bombing of Master Han Dan ceremony to welcome in the New Year at the Fatian Temple in Greater Taichung yesterday.
PHOTO: TSAI SHU-YUAN, TAIPEI TIMES
The fireworks at Taipei 101 were put together by international explosives artist Cai Guoqiang (蔡國強) to celebrate the Republic of China's centenary. The show started at the Dajia Riverside Park and was scheduled to continue through 10 buildings in Xinyi District, ending with the firework display at Taipei 101 following the countdown to the New Year.
The words "100 ROC" were to be displayed on the top of the building at the end of the display.
The celebration at Dajia Riverside Park featured four shows coordinated and designed by stage-lighting master Lin Ke-hua (林克華) and Lin Hwai-min (林懷民), founder of Cloud Gate Dance Theatre (雲門舞集).
About 8,000 invited guests, including President Ma Ying-jeou (馬英九), Vice President Vincent Siew (蕭萬長) and top government officials, were set to enjoy the performance as a water curtain soared 200m into the air, playing out an iconic sunrise over Alishan (阿里山), with Taiwanese songs and folk songs from the Tsou Tribe resonating in the background.
At Taipei City Hall, Mayor Hau Lung-bin (郝龍斌) joined taekwondo star Yang Shu-chun (楊淑君) as the big crowd counted down to 2011.
Popular performers, including A-mei (阿妹) and Mayday (五月天), were set to fuel the passion of the crowd with performances that were scheduled to until 1am.
All MRT lines offered a 24-hour service beginning at 7pm last night, with two-minute intervals between trains transporting revelers.
Elsewhere in the nation, various countdown parties and pop music concerts were hosted by local governments to welcome 2011.
Comments will be moderated. Keep comments relevant to the article. Remarks containing abusive and obscene language, personal attacks of any kind or promotion will be removed and the user banned. Final decision will be at the discretion of the Taipei Times.