EU imposes fines on local firms
'CRYSTAL MEETINGS': European investigation found the firms knew they were engaging in illegal behavior and urged participants to 'take care of confidentiality'
The European Commission yesterday imposed 649 million euros (US$860 million) in fines on four Taiwanese and one South Korean maker of LCD flat screens for running a price-fixing cartel.
Taiwan's AU Optronics Corp (友達光電), Chimei Innolux Corp (奇美電子), Chunghwa Picture Tubes Ltd (中華映管) and HannStar Display Corp (瀚宇彩晶) were hit with fines along with South Korean firm LG Display Co.
South Korea's Samsung Electronics Co was also accused of being a part of the cartel, but avoided a fine for being the first to provide information on the alleged scheme.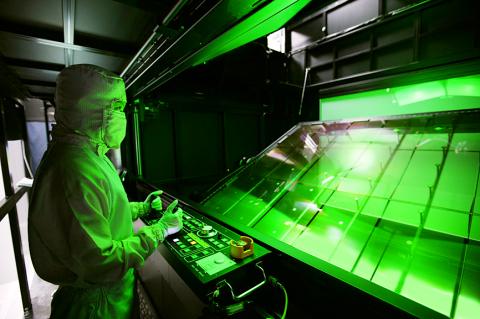 An LG Display worker checks LCD screens at the company's plant in Paju, South Korea, about 55km north of Seoul, in this undated handout picture released on Oct. 21.
Photo: REUTERS
Europe's competition watchdog accused the firms of running a cartel between October 2001 and February 2006 that fixed prices, harming European buyers of televisions and computers equipped with the LCD component.
The companies held monthly meetings to agree on price ranges and minimum prices and trade information on future production planning, capacity utilization, pricing and other commercial conditions, the commission said.
Company officials met 60 times, mainly in hotels in Taiwan, for what they dubbed "the Crystal meetings," the regulator said.
The investigation found that the companies knew they were breaking competition rules and took steps to conceal their meetings.
The commission cited a document urging everybody "to take care of security [and] confidentiality matters and to limit written communication."
Chimei Innolux received the largest fine, 300 million euros, followed by 215 million euros for LG Display.
AU Optronics was fined 116.8 million euros, followed by 9 -million euros for Chunghwa Picture Tubes and 8.1 million euros for HannStar Display.
"Foreign companies, like European ones, need to understand that if they want to do business in Europe they must play fair," European Commissioner for Competition Joaquin Almunia said in a statement.
"The companies concerned knew they were breaking competition rules and took steps to conceal their illegal behaviour," he said.
Earlier yesterday in Taipei, the Ministry of Economic Affairs (MOEA) expressed concerns over potential fines the European Commission could slap on several Taiwanese LCD makers for alleged price fixing and said the government would provide any assistance necessary.
Industrial Development Bureau Director-General Woody Duh (杜紫軍) said as long as the accused companies needed assistance when facing disciplinary action, the government would do its best to help them.
Duh said the ministry has contacted the four local companies and offered its help based on the decision laid down by the European Commission.
"The damage is higher than we thought," Chimei Innolux spokesman Eddie Chen (陳彥松) told the Taipei Times by telephone last night.
The company will book the payment in its fourth-quarter financial statement after receiving the formal ruling, Chen said.
Additional reporting by Lisa Wang
Comments will be moderated. Keep comments relevant to the article. Remarks containing abusive and obscene language, personal attacks of any kind or promotion will be removed and the user banned. Final decision will be at the discretion of the Taipei Times.