2010 ELECTIONS: KMT's Jason Hu prevails in close fight in Taichung
'NOT A GOOD VICTORY' KMT election officials said Hu managed the victory in the traditional KMT stronghold despite losing almost every township in Taichung County
Chinese Nationalist Party (KMT) Greater Taichung mayoral candidate Jason Hu (胡志強) yesterday defeated his Democratic Progressive Party (DPP) opponent Su Jia-chyuan (蘇嘉全), in a final count that was much closer than expected.
Hu obtained 730,284 votes, or 51.12 percent of the vote, against Su's 698,358, or 48.88 percent, the Centra Election Commission said.
Voter turnout was 73.1 percent.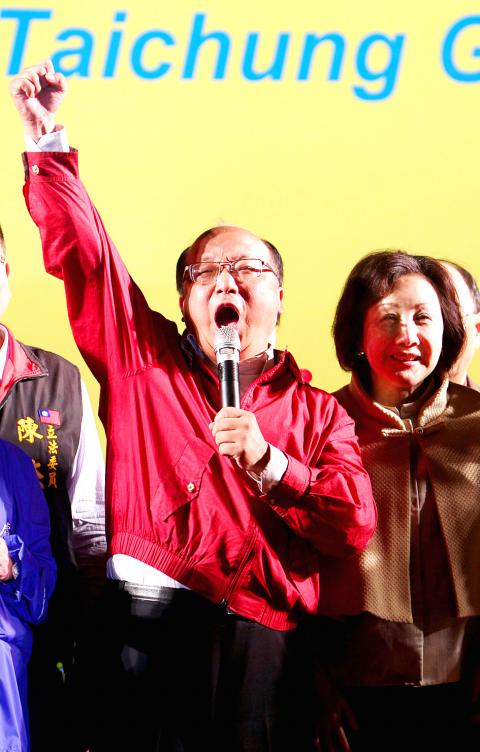 Taichung Mayor Jason Hu, the Chinese Nationalist Party (KMT) mayoral candidate for Greater Taichung, proclaims victory yesterday evening at his campaign headquarters in Taichung City with his wife, Shaw Hsiao-ling.
PHOTO: CNA
Hundreds of supporters gathered at Hu's headquarters at about 4pm, when polling stations closed, many reflecting the nervousness of Hu's campaign officials, as the colorful mayor's advantage over Su had remained narrow throughout the campaign.
As the votes were counted, supporter shouted: "Jason Hu, elected! Jason Hu, elected!"
Once Hu had secured more than 690,000 votes at 6:50pm, his campaign headquarters declared victory.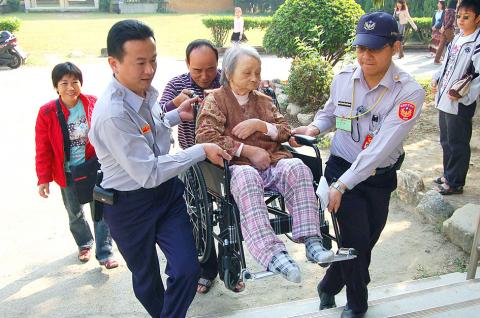 An elderly, wheelchair-bound woman is helped into a voting station by three men so she could cast her vote in the Greater Taichung elections yesterday.
PHOTO: CHANG HSIEH-SHENG, TAIPEI TIMES
Hu entered his headquarters at 7:10pm and gave a victory speech with his wife, Shaw Hsiao-ling (邵曉鈴), by his side.
Hu expressed his gratitude to his supporters as hundreds of people cheered and lit firecrackers.
"This is the most glorious moment in my life. The people of Taichung choose a brighter future and I will do my best for the future Greater Taichung," Hu said.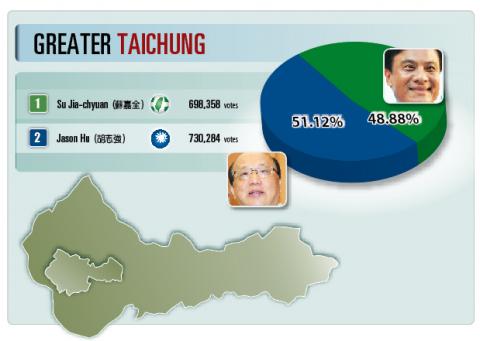 GRAPHIC: TT
"I cannot say this election was without 'incidents.' All polls showed I was leading and I felt that the election became more intense toward the end. Maybe some of my supporters did not go to vote today because they believed I would win easily, because I secured less votes than I expected," he said.
"However, no matter how many votes I garnered, winning the election is what's most important," he said.
Hu said he could not wait until tomorrow to start serving Greater Taichung, whose residents he loved only second to his wife, a survivor of two separate procedures in which doctors removed her ruptured spleen and amputated her left forearm after she was injured in a car accident.
KMT Legislator Lu Shiow-yen (盧秀燕), a campaign official, told reporters the camp expected Hu to win by about 50,000 votes, but the margin of victory was narrower, at about 30,000 votes.
"Hu lost almost every township in Taichung County," Lu said.
"Hu may have won the election, but it was not a good victory," said Taichung Deputy Mayor Hsiao Chia-chi (蕭家旗), a KMT campaign official.
Meanwhile, hundreds of Su's supporters gathered at his campaign headquarters in the evening, crossing their fingers as votes were being counted and the race remained close.
Su conceded defeat at his headquarters at 7:30pm.
"Although I entered the race only six months before the election, I visited all 625 townships and boroughs in Taichung City and Taichung County at least twice during the campaign. I felt warm and encouraged, but I also found some problems in Taichung. Although I lost in this election, I will continue to serve this area by establishing my office in the city," Su said.
Su said he had called Hu to congratulate him and suggest that he pay attention to problems in Taichung County's old communities.
"I did not work hard enough and I am sorry for my supporters," Su said.
Despite spending only six months in Taichung, Su began his campaign in Taichung County and paid more attention to the county voters and his efforts paid off yesterday.
Supporters said Su had managed to collect the most votes for the DPP in Taichung City — a KMT stronghold — in a decade.
"He is a brilliant politician for the party," a supporter said.
Comments will be moderated. Keep comments relevant to the article. Remarks containing abusive and obscene language, personal attacks of any kind or promotion will be removed and the user banned. Final decision will be at the discretion of the Taipei Times.