Indonesia death toll to rise: official
The death toll from a tsunami that pummeled remote Indonesian islands is expected to pass 500, an official said yesterday as questions mounted over whether a warning system had failed.
Hopes were fading for hundreds of people still listed as missing after a huge wave triggered by a powerful earthquake hit the remote Mentawai Islands off the west coast of Sumatra on Monday.
Meanwhile, on the island of Java in the center of the disaster-prone archipelago, a volcano that this week killed 32 people again spewed ash and deadly heat clouds, but there were no reports of damage.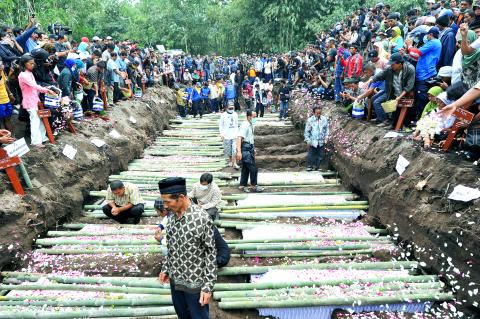 Relatives sprinkle flower petals over the coffins of the victims of the Mount Merapi eruption during a mass funeral in Sidorejo, Indonesia, yesterday.
PHOTO: AFP
Disaster response officials said bodies were being found on beaches and coastal areas in the Mentawais, where the tsunami had washed away entire villages.
"Ten minutes after the quake we heard a sound just like an explosion from outside — it was then we realized there was a tsunami," said 20-year-old housewife Chandra on North Pagai, one of the two worst-hit islands.
Dazed and exhausted, she was searching for her six-month-old baby boy, who has not been seen since the disaster. Neighbors found her husband's body in their village of Muntei Baru Baru.
"I know he's dead, but I keep praying he's still alive. I'm so tired. I've not eaten for two days," she said.
The official death count rose to 370 with 338 missing, but disaster management official Ade Edward said the toll would climb possibly by as much as 200.
"Of those missing people, we think two-thirds of them are probably dead, either swept out to sea or buried in the sand," Edward said. "When we flew over the area yesterday, we saw many bodies. Heads and legs were sticking out of the sand, some of them were in the trees."
Indonesian President Susilo Bambang Yudhoyono visited the area to console the victims, having cut short a visit to Vietnam to attend a regional summit. One survivor broke down and wept as he told the former general how they had lost everything.
The expensive system of tsunami warning buoys was established after the 2004 Asian tsunami, that killed at least 168,000 people in Indonesia alone.
An official tsunami warning was issued after Monday's 7.7 magnitude quake, but it either came too late or did not reach the communities in most danger.
A Jakarta-based official responsible for the warnings blamed local authorities on the Mentawais for failing to pass on the alert, telling reporters: "We don't feel there was any mistake."
On Java, Mount Merapi's fresh eruption raised concerns for local residents who have left temporary shelters — currently housing about 50,000 people — to return to their homes on the mountain's slopes.
One of the people killed was an 83-year-old elder appointed by the sultan of Yogyakarta to appease the sacred volcano's restless spirits.
He was killed as he prayed in his house after refusing the order to evacuate.
Comments will be moderated. Keep comments relevant to the article. Remarks containing abusive and obscene language, personal attacks of any kind or promotion will be removed and the user banned. Final decision will be at the discretion of the Taipei Times.