Possible talks with Afghan insurgents draw closer
FORMER TALIBAN Hamid Karzai said he will soon name the members of a body that will hold talks with insurgents, which will include former Taliban members and women
In a further step toward reconciling with insurgents, Afghan President Hamid Karzai said on Saturday he will soon name the members of a council tasked with pursuing peace talks with rebels willing to break with al-Qaeda and recognize the government in Kabul.
Karzai's announcement was given added poignancy by comments from the outgoing deputy commander of NATO forces in the country that commanders promised too much when they predicted quick success taking the key Taliban-held town of Marjah last winter.
While British Lieutenant General Nick Parker now sees signs of a turnaround in the turbulent area, he said the military would be more restrained in forecasting success in the future.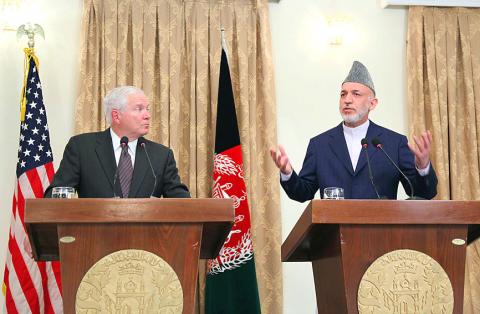 Afghan President Hamid Karzai, right, and US Secretary of Defense Robert Gates talk to journalists during a joint news conference in Kabul last Thursday.
PHOTO: EPA
The formation of the High Peace Council was approved in June at a national peace conference in Kabul and Karzai's statement that its membership would be announced this week marks a "significant step toward peace talks," according to a statement issued by Karzai's office.
It said members will include former Taliban, jihadi leaders, leading figures in Afghan society and women, but gave no other details. They will be prepared to negotiate with insurgents who renounce violence, honor the Afghan Constitution and sever ties with terrorist networks.
The Taliban have so far rejected peace talks while foreign troops remain in the country. Talks held in Kabul and the Maldives with an insurgent group led by ex-Afghan prime minister Gulbuddin Hekmatyar produced no breakthrough.
Still, Karzai hopes the reconciliation process will help render a split in the Taliban between its hardcore members — who have shown no appetite for compromise — and those willing to consider abandoning the insurgency.
Though some observers have expressed concern about cutting any sort of deal with insurgents, foreign governments working to stabilize the Afghan government and economy have welcomed the move, especially given US plans to begin withdrawing some of its forces in July next year.
"We warmly welcome today's announcement," the British Foreign Office said of Karzai's move. "We will not bring about a more secure Afghanistan by military means alone ... We have always said that a political process is needed to bring the conflict in Afghanistan to an end."
With the nearly nine-year war showing no sign of winding down, calls for talks have increasingly echoed among policy analysts and Afghan politicians, growing louder since the February campaign to take Marjah, in Helmand Province, ended without a clear victory.
US Marines and Afghan troops overran the area and announced plans to put in place an effective Afghan administration in hopes of inspiring local populations to rise up against the Taliban.
Instead, the Taliban have fought back with hidden bombs, ambushes, assassinations and intimidation, undercutting NATO's efforts to win public support. That has fueled doubts on Capitol Hill and among the US public that the Afghan war can be won.
Parker, who leaves his post at the end of this month, told reporters in Kabul it was "nobody's fault" that the Marjah campaign has gone slower than expected, but is simply a product of the "complexity of the environment we're operating in."
"I think we were probably a little bit over-enthusiastic," Parker said.
Meanwhile, nervous Afghans continued pulling funds out of the nation's largest bank despite assurances from government leaders that their money was safe.
Crowds gathered at Kabul Bank branches around the capital to withdraw dollar and Afghan currency savings, with customers saying they had lost faith in the bank's solvency following a change in leadership and reports that tens of millions of dollars had been lent to political elites for risky real estate investments.
While there was little apparent sign of panic, Parker said contingency plans were being drawn up in case of unrest sparked by a run on the bank.
"We're prepared to deal with the unexpected," he said.
Comments will be moderated. Keep comments relevant to the article. Remarks containing abusive and obscene language, personal attacks of any kind or promotion will be removed and the user banned. Final decision will be at the discretion of the Taipei Times.