Firefight erupts over border trees
OLIVE BRANCH The UN is trying to quell tempers after a pruning operation triggered shooting that left an Israeli officer, two Lebanese soldiers and a journalist dead
The Israeli military said it would cut more trees yesterday in the tense border area where Israel and Lebanon fought the most serious battle between the countries in four years on Tuesday, touched off by a dispute over a cypress tree.
Israel has pruned trees along the border in the past to improve its sight lines to Lebanon, but the move turned violent on Tuesday after both sides claimed the cypress was in their territory and Lebanon opened fire. Subsequent fighting killed a senior Israeli officer, two Lebanese soldiers and a Lebanese journalist.
The UN peacekeeping force in south Lebanon (UNIFIL) confirmed yesterday that Israel was cutting down trees only on its side, the force's spokesman Lieutenant Naresh Bhatt said.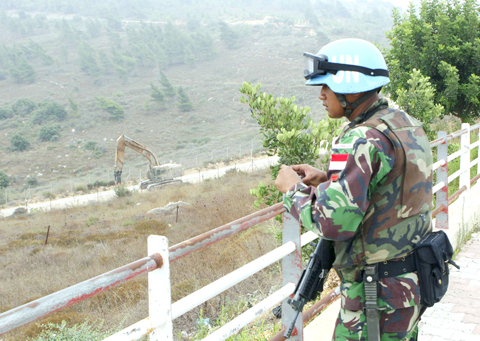 A UN peacekeeper watches an Israeli crane operating yesterday along the Lebanese-Israeli border during a tree-pruning mission near Adaisseh, Lebanon.
PHOTO: REUTERS
"The UN announcement today clearly corroborates the Israeli version of events. Our routine activity yesterday was conducted entirely south of the frontier on the Israeli side and that the Lebanese Army opened fire without any provocation or justification whatsoever," Israeli government spokesman Mark Regev said.
A fence that Israel erected is likely behind the confusion about which territory the tree is in. Photos shows an Israeli standing on a crane reaching over the fence and into a wooded area, angering people on the Lebanese side. However, the fence does not match the official, UN-drawn Blue Line boundary in all places.
Both Israel and Lebanon appeared to be trying to restore calm to the area. Officers from the Lebanese and Israeli armies and UNIFIL were planning to meet later yesterday along the border, UNIFIL spokesman Andrea Tenenti said. The gathering had been planned before the fighting, but it has taken on a new urgency now.
Comments will be moderated. Keep comments relevant to the article. Remarks containing abusive and obscene language, personal attacks of any kind or promotion will be removed and the user banned. Final decision will be at the discretion of the Taipei Times.