KLM presses for end to European flight ban
Dutch airline KLM said it safely flew aircraft without passengers through a window in the cloud of volcanic ash over Europe yesterday and pressed for an end to the total ban on commercial air traffic that has paralyzed travel across the continent.
Other airlines, including Luft­hansa and Air France, said they too were conducting test flights.
Authorities, however, extended airspace restrictions across Europe and said there was no end in sight to the plume spewing out of a volcano in Iceland, which they insist is dangerous to planes.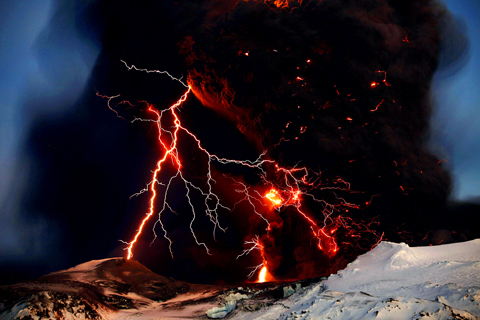 Lightning streaks across the sky as lava flows from a volcano in Eyjafjallajokull, Iceland, on Saturday.
PHOTO: REUTERS
EU transport ministers are expected to hold a special videoconference today on the air travel crisis, the Spanish EU presidency said yesterday.
Spanish Transport Minister Jose Blanco said the ministers' discussion could take place during a meeting of Eurocontrol, the European organization in charge of air traffic safety.
KLM said planes of various types in its fleet flew at a normal altitude above 3,000m, but did not encounter the thick cloud that had hovered over the continent since Wednesday, apparently indicating the Icelandic dust had thinned or dispersed.
A KLM spokeswoman said four flights completed the short flight from Duesseldorf, Germany, without incident and four more planes were scheduled to return to their home base at Schiphol Airport in Amsterdam.
The airline had permission from Dutch and European aviation authorities before sending the planes aloft.
Engineers immediately took the aircraft for inspection as they landed.
Steven Verhagen, vice president of the Dutch Airline Pilots' Association and a Boeing 737 pilot for KLM, said he would have had no qualms about flying yesterday and his 4,000-member organization was calling for a resumption of flights.
"With the weather we are encountering now — clear blue skies and obviously no dense ash cloud to be seen — in our opinion, there is absolutely no reason to worry about resuming flights," he said. "We are asking the authorities to really have a good look at the situation, because 100 percent safety does not exist. It's easy to close down air space because then it's perfectly safe, but at some time you have to resume flights."
Meteorologists, however, said the situation above Europe was unstable and constantly changing with the varying winds — and the unpredictability was compounded by the volcano's irregular eruptions spitting more ash into the sky.
The cloud "won't be present at all parts of the area at risk at all times, you can see clear area, but it will change, it won't stand still," John Hammond of the British Meteorological Office said.
Millions of passengers have had plans foiled or delayed because of a ban on air travel that has gradually expanded over large swaths of Europe since Thursday.
The aviation industry, already reeling from a punishing economic period, is facing at least US$200 million in losses every day, according to the International Air Transport Association.
KLM, a subsidiary of Air France, began test flights on Saturday with a Boeing 737 flying up to 13,000m, the maximum altitude at which the aircraft is certified to fly.
"We observed no irregularities either during the flight or during the initial inspection on the ground," said chief executive Peter Hartman, who was aboard Saturday's flight.
The airline planned to return seven airplanes without passengers to Amsterdam from Duesseldorf yesterday.
"We hope to receive permission as soon as possible after that to start up our operation and to transport our passengers to their destinations," Hartman said in a statement.
German airlines also conducted flights, but at a lower altitude.
German restrictions allow such flights, so long as no passengers are on board.
Lufthansa flew 10 empty planes to Frankfurt from Munich at heights of between 3,000m and 8,000m on Saturday under so-called "visual flight rules," in which pilots don't have to rely on their instruments, spokesman Wolfgang Weber said.
He stressed that the flights weren't tests and were merely intended to get the planes in the right place at the Frankfurt hub for when restrictions are lifted.
"We simply checked every single aircraft very carefully after landing in Frankfurt to see whether there was any damage that could have been caused by volcanic ash," Weber said. "Not the slightest scratch was found on any of the 10 planes."
German air traffic control said Air Berlin and Condor had carried out similar flights.
Air Berlin, Germany's second-biggest airline, said it had transferred two planes from Munich to Duesseldorf and another from Nuremberg to Hamburg without problems on Saturday.
A technical inspection of the aircraft after landing "did not reveal any adverse effects," the company said.
Air Berlin chief executive Joachim Hunold declared himself "amazed" that the results of the German airlines' flights "did not have any influence whatsoever on the decisions taken by the aviation safety authorities."
Kyla Evans, spokeswoman for Eurocontrol, said it was up to national aviation authorities to decide whether to open up their airspace. The agency's role was to coordinate traffic once it was allowed to resume.
Scientists say that because the volcano is situated below a glacial ice cap, magma is being cooled quickly, causing explosions and plumes of grit that can be catastrophic to plane engines, depending on prevailing winds.
"Normally, a volcano spews out ash to begin with and then it changes into lava, but here it continues to spew out ash, because of the glacier," said Reynir Bodvarsson, director of Swedish National Seismic Network. "It is very special."
Bodvarsson said the relative weakness of the eruption in Iceland also means the ash remains relatively close to the earth, while a stronger eruption would have catapulted the ash outside of the atmosphere.
In 1989, a KLM Boeing 747 that flew through a volcanic ash cloud above Alaska temporarily lost all four motors. The motors restarted at a lower altitude and the plane eventually landed safely.
The Centre for Asia-Pacific Aviation, an independent aviation research group based in Sydney, Australia, said it remained unclear whether the closure of much of Europe's airspace was "a massive overreaction of super-cautious politicians and bureaucrats," or a genuinely serious event.
The group noted that a similar eruption under a glacier in Iceland in the 1990s led to minimal disruption, with flights routed around the area.
"It certainly did not lead to regionwide closures of air space. Such has the paranoia around safety and security grown since Sept. 11," the center said in a statement.
The Swiss Federal Office of Civil Aviation began allowing flights on Saturday above Swiss air space as long as the aircraft were at least at 11,000m. It also allowed flights at lower altitudes under visual flight rules, aimed at small, private aircraft.
Air France said it would conduct test flights "to improve knowledge of the impact of the ash cloud on airplanes."
The first flight, in an Airbus A320 carrying no passengers, was to take off yesterday afternoon from an unspecified location in southwest France.
The planes would undergo inspections afterwards, Air France said, adding it had approval from the French civil aviation authority for the flights and is in touch with other European airlines doing the same thing.
Southern Iceland's Eyjafjallajokull volcano began erupting for the second time in a month on Wednesday, sending ash several kilometers into the air. Winds have pushed the plume south and east across Britain, Ireland, Scandinavia and into the heart of Europe.
Comments will be moderated. Keep comments relevant to the article. Remarks containing abusive and obscene language, personal attacks of any kind or promotion will be removed and the user banned. Final decision will be at the discretion of the Taipei Times.