Industrial innovation act passed
SELECTIVE SUBSIDIZATION? Lawmakers are to vote next week on a controversial business income tax rate, while all the DPP's proposed articles were struck down
The legislature yesterday approved a draft industrial innovation act (產業創新條例), with lawmakers scheduling a vote for next week on amendments to an Income Tax Act (所得稅法).
The draft, initiated by the Executive Yuan in April last year, had been stalled on the floor until yesterday. President Ma Ying-jeou (馬英九) weighed in by supporting cutting the business income tax rate to 17 percent from the original 20 percent that was proposed by the Cabinet and was opposed by some Chinese Nationalist Party (KMT) lawmakers.
The Democratic Progressive Party (DPP) caucus yesterday took issue with an article in the draft act that suggested granting tax incentives for R&D investment. Under the article, 15 percent of a business' R&D spending would be deductible from its business income tax, but capped at no more than 30 percent of its business income tax.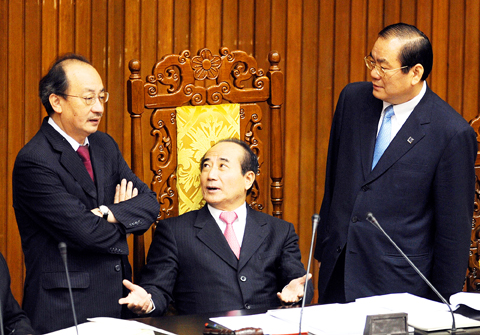 Legislative Speaker Wang Jin-pyng, center, Democratic Progressive Party Legislator Ker Chien-ming, left, and Vice Legislative Speaker Tseng Yung-chuan exchange views in the legislature yesterday on a vote on the draft industrial renewal act.
PHOTO: LO PEI-DER, TAIPEI TIMES
The DPP caucus denounced the article as a way for the government to use taxpayers' money to please large corporations.
An estimate by the Ministry of Finance showed the article would result in a loss of about NT$10 ­billion (US$317.6 million) in annual tax revenue.
"Although small and medium businesses are eligible to apply for the tax credits, we have learned from experience that their applications were always turned down," DPP Legislator Lee Chun-yee (李俊毅) said.
In rebuttal, the KMT caucus said the tax credit article treated all businesses alike and would be applicable to all companies regardless of capital, helping drive innovation, competitiveness and prosperity.
The draft industrial innovation act is a replacement for the expired Act for Upgrading Industries (促進產業升級條例).
"We reduced the investment items qualifying for tax credits from 16 to only R&D, significantly reducing the tax revenue loss of NT$148.3 billion in the past. How could we encourage industry innovation without this tax credit?" KMT Legislator Chen Chieh (陳杰) asked.
The KMT-controlled legislature yesterday also voted down a series of DPP-proposed articles that would have required government agencies to help domestic industries adjust to competition resulting from the reduction of tariffs or lifting of quantitative restrictions agreed upon in free-trade negotiations.
The draft articles, including a NT$100 billion fund to be established within three years to help vulnerable industries, were deemed by the DPP as "safety net measures" against the KMT government's plan to sign an economic cooperation framework agreement (ECFA) with China.
KMT Legislator Lai Shyh-bao (賴士葆) said these proposed articles were "redundant" because the Executive Yuan had already decided to provide a lifeline of NT$95 billion over 10 years to help businesses.
"We found it regrettable that the KMT opposed the articles. We doubt that a fund without statutory basis could actually offer help to vulnerable businesses," DPP Legislator Pan Men-an (潘孟安) said.
The legislature also passed a controversial article on an employment subsidy that stipulates the government can offer NT$10,000 in monthly subsidies to small and medium businesses for every new employee, without clarifying details such as the tenure of the subsidy or conditions for applicants. Regulatory agencies will decide the details.
DPP Legislator William Lai (賴清德) said the program could become a tool for Ma and the government to "manipulate small and medium businesses" because the government would be able to selectively subsidize companies that are on good terms with the KMT.
Comments will be moderated. Keep comments relevant to the article. Remarks containing abusive and obscene language, personal attacks of any kind or promotion will be removed and the user banned. Final decision will be at the discretion of the Taipei Times.