New draft highlights climate talks deadlock
The UN's climate conference was deadlocked yesterday on key issues, with a new draft text lacking any figures on targets for limiting global warming, as world leaders raised the pressure for results.
The latest proposal gave no figures for a long-term goal of reducing greenhouse-gas emissions, a peak for these emissions, an intended limit to global warming, nor on financing for poor countries exposed to climate change.
These core questions are being debated in parties of ministers in the hope of brokering a consensus by Friday, when the deal will be put to world leaders. With the 12-day meeting so far marred by procedural wrangles and fingerpointing, the arrival of some heavyweight leaders was intended to inject a shot of adrenaline into proceedings.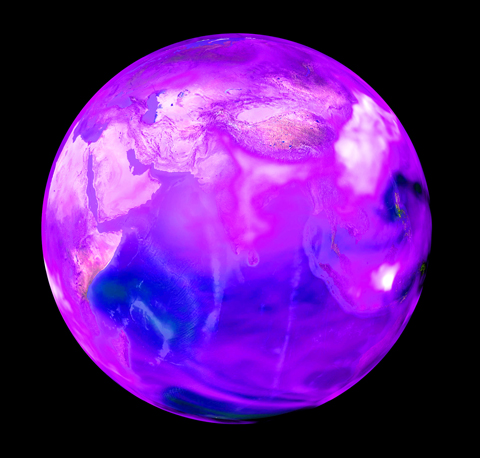 NASA Earth Observatory yesterday released this image from a computer simulation of the spread of black soot over the Tibetan Plateau from August through last month. It shows black carbon aerosol optical thickness on Sept. 26. Aerosol optical thickness is a scale that describes how much pollution is in the air based on how much of the incoming sunlight the particles absorb. Places where the air was thick with soot are white, while lower concentrations are transparent purple.
PHOTO: AFP/NASA EARTH OBSERVATORY
British Prime Minister Gordon Brown, his Australian counterpart Kevin Rudd and Brazilian President Luiz Inacio Lula da Silva were among those expected in the Danish capital in a bid to bring an end to the deadlock.
UN Secretary-General Ban Ki-moon arrived in Copenhagen yesterday morning having warned that "time is running out" for a deal and that failure would have "potentially catastrophic consequence."
The goal of the summit is to agree an outline deal of national pledges to curb carbon emissions and set up a mechanism to provide billions of dollars in help for poor countries in the firing line of climate change. But deep divisions remain over how to split the tab.
Developing countries are demanding their rich counterparts slash their carbon emissions by at least 40 percent 2020 compared with 1990 levels.
China and India say they are willing to promise voluntary measures to slow their forecast surges in emissions but are under pressure to be more ambitious and be subject to international scrutiny.
"The developed country parties must take the lead in combating climate change" as they were responsible for the "largest share of historical and current global emissions of greenhouse gases," the draft says.
But it said that the "sources and scale of financial contributions" to fund the war against global warming were "to be elaborated."
Delegates say closed-door negotiations have been marred by bitter exchanges between the Americans and Chinese, with Beijing accusing Washington of "playing tricks."
Developing nations have complained of being excluded from key negotiations.
A Western envoy said the conference chair, former Danish climate minister Connie Hedegaard, was moving too fast for a painstaking, consensus-forging process.
"We shouldn't try and dance ahead of the music. We've got to go a bit more slowly so that the negotiations can move on from the ministers to the heads of state, otherwise we'll get a repeat of yesterday," he said, referring to a five-hour walkout by African nations from working groups on Monday.
Jonathan Pershing, deputy US chief negotiator, said it was to be expected.
"Things are looking like they always do in the middle of the week, a little slow, lots of consultations," he said.
Also See: Indian Oil pledges cleaner products
Comments will be moderated. Keep comments relevant to the article. Remarks containing abusive and obscene language, personal attacks of any kind or promotion will be removed and the user banned. Final decision will be at the discretion of the Taipei Times.