Consortium agrees to buy Nan Shan Life stake for US$2.15bn
A consortium led by Primus Financial Holdings Ltd and Hong Kong-based China Strategic Holdings Ltd (中策集團) yesterday reached an agreement with American International Group (AIG) Inc to acquire the New York-based company's 97.57 percent stake in Nan Shan Life Insurance Co (南山人壽) for USS$2.15 billion, which represented a 7.5 percent premium on AIG's asking price of US$2 billion.
Robert Morse, chairman and co-chief executive officer of Primus Financial, said at a press conference in Taipei that Nan Shan is a "crown jewel of the [local] insurance sector."
"We aim to develop Nan Shan into a leading Taiwan-based, pan-Asian financial service company," Morse said.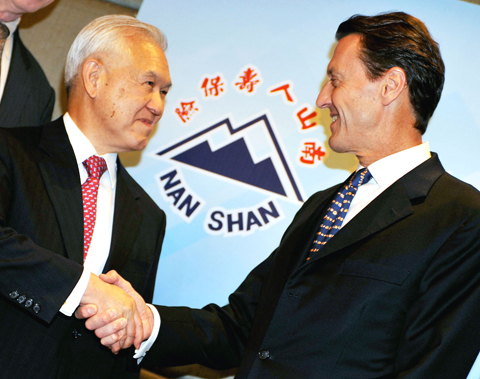 Robert Morse, right, chairman and co-CEO of Primus Financial Holdings, shakes hands with his Taiwanese counterpart, Edmund Tse, chairman of Nan Shan Life Insurance, at a press conference in Taipei yesterday. American International Group said it would sell its Taiwanese unit to Hong Kong-based Primus Financial Holdings for US$2.15 billion.
PHOTO: AFP
Ng Wing-fai (吳榮輝), another Primus managing director and co-chief executive officer, later said the consortium would like to see Nan Shan expand into all Mandarin-speaking countries "within five years."
Morse said the majority of the US$2.15 billion would be in the form of equities owned by shareholders, but sources said that Primus Financial intended to borrow from local banks after China Strategic had raised US$1 billion in Hong Kong via the issuance of debts.
The deal is subject to government approvals in both Taiwan and the US and one of the questions the Taiwanese regulator will have to consider is whether any China-sourced funds are involved in the deal.
Morse said that none of the consortium's funds came from China. He declined to disclose who the individual investors were, saying only that they include "many famous wealthy families and equity funds, not based in China."
Primus Financial would disclose details on the investors to the Ministry of Economic Affairs (MOEA) and the Financial Supervisory Commission (FSC) for final regulatory approval to complete the ownership's transfer, hopefully by the end of this year, Morse said.
The ministry's Investment Commission yesterday said it had not yet received an application from Primus for the takeover deal.
"When we receive the filing, we will have to look at the shareholder structure to make sure there is no Chinese capital involved," Investment Commission Executive Secretary Fan Lang-dong (范良棟) said by telephone.
Fan said the first phase of the government's relaxation of restrictions on investments from China did not cover the insurance industry.
However, investments from Hong Kong would be acceptable, he said.
The FSC previously rejected a bid for Nan Shan from a stakeholder with China-sourced funds, which it said aimed to make quick gains in less than seven years and lacked experience in the local market.
"The MOEA will determine whether [Primus Financial] is a China-financed stakeholder, and it is within the commission's rights to oversee both its entry and potential withdrawal [if Primus Financial were to quit the local market]," FSC Vice Chairwoman Lee Jih-Chu (李紀珠) said yesterday.
In terms of the financial market, the regulator defines Chinese-financed firms as any company, including those based in Hong Kong, in which China-based investors control a stake of 30 percent or more, she added.
Under the terms of the deal, Primus Financial has agreed to maintain the Nan Shan brand, the existing compensation and benefit packages for its 4,000 employees as well as the existing agency organization and commission structure for its 34,000 agents for a minimum of two years following the closing of the transaction.
"The future for Nan Shan [and its employees] will be very bright," Richard Bender, AIG's executive vice president and chief operating officer for the greater China and India region, said at the same press conference.
However, labor union representative Jonathan Chang (張政文) said that neither AIG nor Primus Financial had offered a solution to their requests for a NT$14 billion (US$433.4 million) provident fund and pension repayments at a maximum cost of NT$15 billion.
"We hope Primus Financial is as sincere as it claims to be and look forward to our meeting [with Primus Financial]" today, Chang said.
Sources yesterday said that Primus Financial had been the second-highest bidder after Chinatrust Financial Holding Co (中信金控), but won the bid because it showed a greater willingness to address labor issues.
An analyst said the purchase price fell "within the acceptable high price range" to show a small gain for AIG, which had twice injected funds totaling US$1.78 billion into Nan Shan.
If Primus Financial is capable of expanding Nan Shan into a major regional player, the new tie-up could be a win-win deal, although the biggest challenge for Primus Financial would be to address the thorny labor issues involved, said the analyst, who declined to be named.
Citigroup analyst Bradford Ti (鄭溫煌) said that the deal was not likely to have an immediate impact on the local life insurance industry.
"We expect competition for market share to remain fierce, and it will take time for Primus to roll out its strategy initiatives for Nan Shan. Being new to the Taiwan market, building the necessary expertise to transform itself into a more meaningful player in the space poses a significant challenge," Ti wrote in a client note.
Jonathan Lee (李信佳), senior director of the financial institutions group at Fitch Ratings Ltd Taiwan, said the tie-up would have no impact on the life insurer's rating unless the new stakeholder were to introduce immediate changes in its business strategies.
ADDITIONAL REPORTING BY JASON TAN AND KEVIN CHEN
Comments will be moderated. Keep comments relevant to the article. Remarks containing abusive and obscene language, personal attacks of any kind or promotion will be removed and the user banned. Final decision will be at the discretion of the Taipei Times.