Tycoon Wang Yung-ching dies at 91
'AMIABLE ELDER' The legendary businessman, who started the Formosa Plastics Group from scratch, died in his sleep while on an inspection trip of factories in the US
Formosa Plastics Group (FPG, 台塑集團) founder Wang Yung-ching (王永慶), a local tycoon known for his business management abilities, has died at the age of 91 while on a business trip in the US, the group said yesterday.
"Wang passed away in his sleep in New Jersey at midnight," the group said in a written statement released yesterday after several local news channels broke the news earlier in the day.
The tycoon was in the US for an inspection of the group's factories there. His body was to be flown back to Taiwan by an EVA Airways plane early this morning, FPG said in the statement.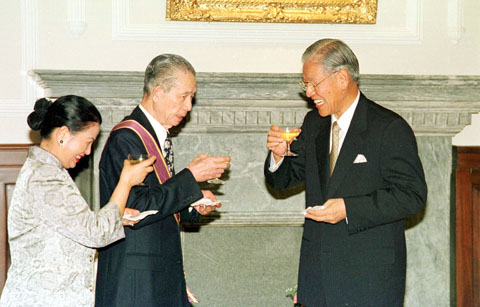 Then president Lee Teng-hui, right, toasts Formosa Plastics Group chairman Wang Yung-ching, center, when Wang was awarded a medal for his long commitment to industrial development in 1997.
PHOTO: CNA
Wang was the nation's second-richest man with a fortune of US$6.8 billion, a report by Forbes magazine published in June said.
Though he had retired as chairman of Formosa Plastics in 2006, he remained chairman of the boards at FPG subsidiaries and talked to the local press occasionally since then about his views on the group's business performance and the nation's economic prospects.
President Ma Ying-jeou (馬英九) and Vice President Vincent Siew (蕭萬長) expressed their condolences to Wang's family.
Presidential Office Spokesman Wang Yu-chi (王郁琦) said that Ma felt sad about the loss of Wang Yung-ching, describing the tycoon as an "old friend" and an "amiable elder" who had made outstanding contributions to Taiwan's economy.
"President Ma became acquainted with Wang about 20 years ago," the spokesman said. "The president feels sorry about the sudden death of his old friend, who he had often run with [at sporting events] and discussed national affairs."
Siew, who had known Wang Yung-ching for about 30 years since he worked at the Bureau of Foreign Trade under the Ministry of Economic Affairs, said the legacy of the plastics tycoon would live on in the minds of Taiwanese forever.
Describing Wang as a loving businessman with an international outlook, Siew said among the plastic tycoon's contributions were establishing the Sixth Naphtha Cracker plant, Chang Gung Memorial Hospitals, medical schools and building housing for low-income families in Guatemala.
Premier Liu Chao-shiuan (劉兆玄) also expressed his condolences yesterday, Executive Yuan Spokeswoman Vanessa Shih (史亞平) said.
Shih said Liu had talked to FPG chief executive William Wong (王文淵) on the telephone upon receiving the news and expressed his wish that the conglomerate would continue to work for Taiwan in the spirit Wang Yung-ching had demonstrated.
Shih said the government would help the Wang family with the funeral.
Chinese Nationalist Party (KMT) Chairman Wu Poh-hsiung (吳伯雄) lauded Wang for his untiring spirit as one of the most influential entrepreneurs in Taiwan.
"Mr Wang's experience of starting his own business and his ideals in running the enterprise are representative of the Taiwanese spirit," Wu said in a written statement.
Wang Yung-ching witnessed the development of the country's economy over the years, and made great contributions to the nation's economy and many more areas, Wu said.
Democratic Progressive Party (DPP) spokesman Cheng Wen-tsang (鄭文燦) said: "He bore witness to a generation, using his hard work and thrift to rise from poverty to wealth, helping to usher in a new era."
"Wang Yung-ching represents the entrepreneurial spirit of Taiwan, someone that people look up to and respect," he said.
Saying Ma had high respect for the former tycoon, Presidential Office Spokesman Wang Yu-chi said Ma had learned of Wang's death on Wednesday night and immediately offered his condolences to the Wang family.
The spokesman said Ma attended more than 10 of the FPG's annual sports activities and ran with Wang Yung-ching in the 5,000m races.
Ma was particularly impressed by Wang Yung-ching's physical energy, will power and discipline, the spokesman said, adding that Ma remembered vividly how frugally the billionaire had lived when Wang Yung-ching and his wife invited him to have oyster noodle soup after an annual sports event two years ago.
Wang Yu-chi said that Wang Yung-ching paid great attention to efficiency and discipline when it came to company management, making FPG the most profitable business in Taiwan. The entrepreneur retained a clear mind and lived a thrifty lifestyle even after building a successful career, the spokesman said, and his success story represented the core values of Taiwan.
In addition to his devotion to the growth of his business, Wang Yu-chi said Wang Yung-ching cared about the sustainable development of the environment and social justice, especially peace and prosperity in cross-strait relations.
The spokesman said Ma admired Wang Yung-ching's foresight about investment in China about a decade ago. His effort to build more than 10,000 schools in China also won much acclaim, he said.
Additional reporting by Shih Hsiu-chuan,Mo Yan-chih and Reuters
Comments will be moderated. Keep comments relevant to the article. Remarks containing abusive and obscene language, personal attacks of any kind or promotion will be removed and the user banned. Final decision will be at the discretion of the Taipei Times.