Athletes Village opens in Beijing
The Athletes' Village for the Beijing Olympics held its opening ceremony yesterday, an all-Chinese curtain raiser with basketball stars Yao Ming (姚明), Yi Jianlian (易建聯) and Wang Zhizhi (王治郅) heading a 265-member delegation of athletes and officials.
A few foreign delegations were in town yesterday — just 12 days before the opening ceremony of the games — but none appeared officially at the inauguration, which was showered in confetti and had dozens of Chinese children handing out Olympic mascots to some of the most powerful politicians.
"We now welcome athletes from around the world to come to the Games," said Chen Zhili (陳至立), speaking from a stage draped in red. Chen is the so-called mayor of the village and a vice president of the organizing committee.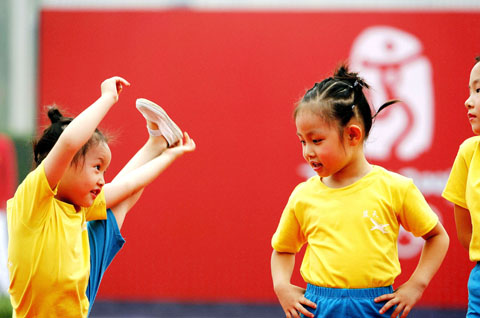 Young girls show each other their moves moments before the opening ceremony for the Athletes Village in Beijing yesterday. The opening came on a hot muggy morning, made more uncomfortable by a thick haze of pollution hanging over the village, which is to house about 16,000 Olympic athletes.
PHOTO: AP
"We will try to satisfy the needs of people from different cultural and religious backgrounds," Chen said, before he received a symbolic gold key to the village from organizing committee president Liu Qi (劉淇).
Liu is also the head of Beijing's Communist Party.
The opening came on a hot, muggy morning made more uncomfortable by the thick haze of pollution hanging over the village, which is to house about 16,000 athletes and officials.
Despite drastic pollution-control measures that have been in effect for a week, Beijing's air quality appears unchanged. The village was cloaked in smog, making it invisible from the main Olympic Green area just a kilometer away.
Beijing officials have pulled about half of the city's 3.3 million vehicles off the roads, closed factories in the capital and in a half-dozen surrounding provinces and halted most construction in the city.
Yao declined to speak entering the amphitheater in the village area, but his teammates were a bit more talkative.
"I'm looking forward to the Games and I'm very excited about it," said Yi, who was traded a few weeks ago from Milwaukee Bucks to the New Jersey Nets.
Wang, who was China's first player to crack the NBA, seemed most excited about Germany's qualification for the basketball tournament. That means a meeting with his friend and former Dallas Mavericks teammate Dirk Nowitzki.
"I'll be happy to meet him in Beijing," Wang said. "We played basketball together and are good friends. I'll try to find a chance to show him around the city and bring him to a roast duck restaurant."
On Friday, China unveiled its team of 639 athletes. It is likely to be the largest, slightly bigger than the 600-member US team.
The 66-hectare village is a complex of high-rise apartments that contains a restaurant that can feed up to 6,000, a library, a clinic, swimming pools, tennis courts, basketball courts, jogging tracks, shopping areas and coffee shops. The village will also have its own fire station.
Comments will be moderated. Keep comments relevant to the article. Remarks containing abusive and obscene language, personal attacks of any kind or promotion will be removed and the user banned. Final decision will be at the discretion of the Taipei Times.