Nationality probe lists names
LOYALTY Responding to accusations by the DPP that some Cabinet members hold foreign residency status, the KMT said 21 officials under the DPP government did too
The Presidential Office released yesterday the results of its nationality and citizenship probe as the government continued to dampen controversy over the number of officials and Cabinet members who hold dual nationality or permanent residency in other countries.
The office said that President Ma Ying-jeou (馬英九) and other high-ranking officials at the Presidential Office do not have permanent residency, but that two had either a US green card or dual nationality.
Presidential Office Spokesman Wang Yu-chi (王郁琦) said that Chan Man-jung (詹滿容), an adviser to the National Security Council (NSC), had a green card, but that she intended to relinquish it.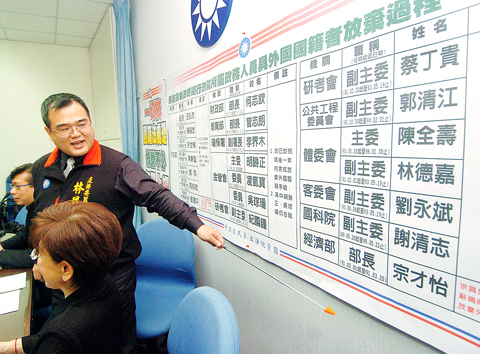 Chinese Nationalist Party (KMT) caucus whip Lin Yi-shih points to a list of officials with dual nationality who served under the Democratic Progressive Party administration in Taipei yesterday.
PHOTO: FANG PIN-CHAO, TAIPEI TIMES
Academia Sinica President Wong Chi-huey (翁啟惠) has US citizenship but is allowed to retain his status because the Nationality Law (國籍法) stipulates that the head of a research institution is entitled to dual citizenship.
Wang said he hoped the controversy would come to an end, adding that it was not the Presidential Office's intention to pressure other government agencies to follow suit.
The NSC said that Chan, an international trade specialist, has devoted herself to the country's efforts to join international organizations for decades and that her loyalty to the country was beyond question.
Chan did not relinquish her green card because there are no laws regulating the green card status of political appointees, the council said. Given the controversy, however, Chan has agreed to renounce her green card, the council said.
The council said that NSC Deputy Secretary-General Ho Szu-yin (何思因) once had a Canadian maple card, but forfeited it before taking office last month.
Wang said Ma does not have permanent residency in another country, nor do Vice President Vincent Siew (蕭萬長), Presidential Office Secretary-General Chan Chun-po (詹春柏), Presidential Office Deputy Secretary-General Yeh Chin-chuan (葉金川) or president of Academia Historica Lin Man-houng (林滿紅).
Kao Lang (高朗), the other deputy secretary-general, once held a Canadian maple card, but also gave it up last month.
Wang said yesterday that having permanent residency is different from having dual citizenship as permanent residency does not involve an oath of loyalty to another country.
While there is no legislation prohibiting officials from having permanent residency in another country, Wang said the Presidential Office nevertheless sought to determine whether any high-ranking officials at the office have a US green card or dual citizenship because of public sensitivity to the matter.
In related news, Chen Ching-hsiu (陳清秀), director of the Central Personnel Administration, told the legislature's Judiciary, Organic Laws and Statutes Committee yesterday that 21 officials had had dual citizenship during the Democratic Progressive Party (DPP) administration.
The committee requested that the Central Personnel Administration investigate the citizenship status of government personnel stationed overseas and officials employed by state-owned businesses.
Meanwhile, Premier Liu Chao-shiuan (劉兆玄) came out in defense yesterday of Cabinet members under fire for allegedly having previously had permanent resident status in other countries.
"We live in a time where things are global and therefore need talent with overseas work experience. Some of those individuals have obtained green cards as a necessity. Given that, the best the Executive Yuan can do is ask them to renounce their green card before they join the Cabinet," Liu said.
The Cabinet has launched an investigation to ascertain whether 37 heads of ministries hold permanent residency status in countries beside the US and Canada. The results are expected to be released today.
The Executive Yuan Spokeswoman Vanessa Shih (史亞平) said on Sunday that no Cabinet official still holds permanent residency in the US or Canada after green cards had become an issue.
The first phase of the investigation covers 35 heads of Cabinet-level ministries — Vice Premier Paul Chiu (邱正雄), Executive Yuan Secretary-General Hsueh Hsiang-chuan (薛香川), four of seven ministers without portfolio who do not double as ministry heads; Tsai Hsun-hsiung (蔡勳雄); Ovid Tzeng (曾志朗); Chu Yun-peng (朱雲鵬) and Chang Chin-fu (張進福).
Shih said the Cabinet would launch a second phase that would include deputy heads of Cabinet-level ministries and the nation's representatives to other countries.
Executive Yuan Secretary-General Hsueh Hsiang-chuan's (薛香川) US green card was automatically invalidated 17 years ago, while Council for Economic Planning and Development Chairman Chen Tian-jy (陳添枝) surrendered his prior to his swearing in, Shih said.
Environmental Protection Administration Minister Stephen Shen's (沈世宏) permanent resident status in Canada was cancelled years ago and National Council on Physical Fitness and Sports Chairman Tai Hsia-ling (戴遐齡) was in the process of abandoning her Canadian permanent resident card, Shih said.
The issue came to the fore on Wednesday after Minister of Foreign Affairs Francisco Ou (歐鴻鍊) was found to have obtained a US green card in 2005 when he was Taipei's representative to Guatemala.
During a question-and-answer session at the legislature on Friday, Liu said that none of the Cabinet members had a green card, as he had asked each of them upon inviting them to join the Cabinet.
Soon thereafter, DPP Legislator Kuan Bi-ling (管碧玲) showed him two green card numbers and claimed that two high-level Cabinet officials had valid green cards.
She also said that designate-representative to the US Jason Yuan (袁健生) was waiting to receive his US green card.
In a press release on Saturday, Yuan's office in Washington admitted that Yuan had begun applying for a US green card when he opened the office in 2004.
Chinese Nationalist Party (KMT) caucus secretary-general Chang Sho-wen (張碩文) called on the premier to collect data on the foreign residency status of all Cabinet officials within one day and to make the information public.
"If more government officials are found to hold foreign residency in the future, I would question Liu's competence and [as a result would suggest that] he should step down," Chang said when asked for comment.
KMT caucus deputy secretary-general Wu Yu-sheng (吳育昇) disagreed, saying that amending the Nationality Law would be the best way to resolve the controversy once and for all.
The government should also make it clear to the people that carrying a green card does not equate with disloyalty to the nation, Wu said.
Approached by reporters, KMT Chairman Wu Poh-hsiung (吳伯雄) said that all government officials should deal with the controversy with honesty.
He dismissed DPP allegations that holding a green card constituted a lack of loyalty to the country, adding that the public would be more understanding if it were apprised of the reasons why those individuals had applied for the green card in the first place.
KMT caucus whip Lin Yi-shih (林益世) asked why the DPP did not question the loyalty of the 21 officials who allegedly had dual citizenship while they served in government.
Lin said the KMT was willing to conduct a review of the matter but that it is not illegal for government officials to have a green card.
He urged the DPP to cease its "political wrangling" on the green card issue.
The officials Lin mentioned included former minister of foreign affairs Tien Hung-mao (田弘茂), former minister of finance Ho Chih-chin (何志欽) and the representative to Switzerland, George Liu (劉寬平), who was appointed in November.
Article 20 of the Nationality Law bars all public officials, including legislators, from holding citizenship from other countries and requires that those with foreign citizenship give it up upon coming into office.
Tien was sworn in on May 20, 2000. The Ministry of Foreign Affairs issued a statement on May 27, 2000, saying that Tien had relinquished his US citizenship at the American Institute in Taiwan on May 11 the same year.
Ho assumed office on July 4, 2006, at which time he still possessed US citizenship. He gave up the citizenship on Oct. 4 of that same year.
The Central Personnel Administration said on Thursday that Liu, who previously served as legislator-at-large for the Taiwan Solidarity Union for three years, was now in the process of renouncing his US nationality.
"The premier should understand how Taiwanese feel about Cabinet members possessing foreign residency or nationality," DPP deputy caucus whip Chiu Yi-ying (邱議瑩) said during a press conference yesterday morning.
ADDITIONAL REPORTING BY JIMMY CHUANG
Comments will be moderated. Keep comments relevant to the article. Remarks containing abusive and obscene language, personal attacks of any kind or promotion will be removed and the user banned. Final decision will be at the discretion of the Taipei Times.