Myanmar pressured to allow aid in
Desperate survivors cried out for aid yesterday, nearly a week after Cyclone Nargis killed as many as 100,000 people, as pressure piled up on Myanmar to throw its doors open to an international relief operation.
The US was still awaiting approval from Myanmar's junta to start military aid flights, but the UN food agency and Red Cross/Red Crescent said they had started flying in emergency relief after some delays.
US Ambassador to Thailand Eric John said in Bangkok that the US and Thailand had thought the Myanmar generals had agreed to let a US military cargo plane fly in supplies.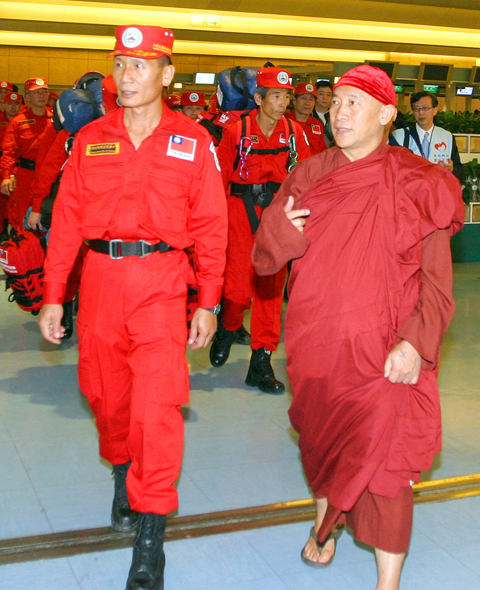 A Ling Jiou Mountain Buddhist Society relief team headed by Myanmar-born Master Hsin Tao, right, departs for Myanmar from Taiwan Taoyuan International Airport yesterday.
PHOTO: CNA
But that turned out to be premature.
"We don't have permission yet for the C-130 to go in, but I emphasize 'yet,'" John said.
Approval for such a flight would be surprising given the huge distrust and acrimony between the generals and Washington, which has imposed tough sanctions to try to end decades of military rule.
Aid has barely trickled into the country, although experts feared it would be too little to cope with the aftermath of Nargis, which also left as many as 1 million homeless.
Witnesses saw little evidence of a relief effort under way in the hard-hit Arrawaddy delta region.
The UN said several cargo planes had landed at Yangon's airport.
The Red Cross/Red Crescent confirmed its first aid plane took off from Kuala Lumpur, carrying 6 tonnes of shelter materials.
"It's a modest amount, but we hope once we established it, others will follow," an official said. "Another 8 tonnes of shelter goods will leave on a Thai commercial flight tonight."
Jean-Michel Grand, executive director of Action Contre la Faim in London said the logistical obstacles were formidable.
In Geneva, the UN said yesterday it would give US$10 million in immediate aid to Myanmar.
The UN will "immediately release a first tranche of at least US$10 million from its Central Emergency Response Fund" to help relief efforts in the stricken country, said Elisabeth Byrs, spokeswoman for the UN's Office for the Coordination of Humanitarian Affairs.
"A flash appeal will be launched in the next few hours," she said.
UN agencies have asked Myanmar to allow in about 100 experts to help cyclone relief efforts, UNICEF said yesterday.
UNICEF has submitted 12 names to the overall list in addition to its 130 staff already working in Myanmar, deputy director for emergency programs Pierrette Vu Thi said.
Also see: Survivors tell tales of destruction
Comments will be moderated. Keep comments relevant to the article. Remarks containing abusive and obscene language, personal attacks of any kind or promotion will be removed and the user banned. Final decision will be at the discretion of the Taipei Times.