Ma cautiously welcomes Hu comments
DIPLOMACY The AIT chief told Chen Shui-bian yesterday that he would only respond in private to his questions about the Cairo Declaration and so-called `1992 consensus'
Chinese President Hu Jintao's (胡錦濤) expression of willingness to resume cross-strait negotiations could be interpreted as a goodwill gesture from China and a positive sign for the development of cross-strait relations, president-elect Ma Ying-jeou (馬英九) said.
Nevertheless, caution was warranted, Ma told reporters yesterday after a private meeting with American Institute in Taiwan (AIT) Chairman Raymond Burghardt at Chinese Nationalist Party (KMT) headquarters in Taipei.
"We still need to confirm his comments and gain a better understanding of what he said," Ma said.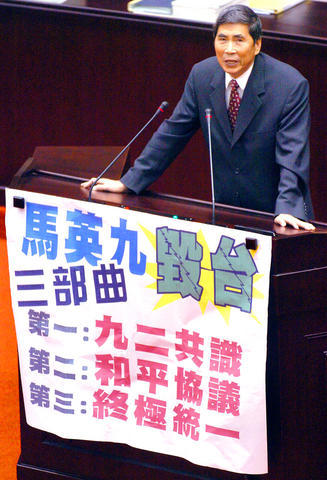 DPP Legislator Chai Trong-rong speaks at the legislature yesterday about what he called president-elect Ma Ying-jeou's three-steps to destroy Taiwan -- the ``1992 consensus,'' a peace agreement with China and eventual unification.
PHOTO: LIAO CHEN-HUEI, TAIPEI TIMES
Hu reportedly indicated during a telephone conversation with US President George W. Bush on Wednesday that he would be willing to reopen cross-strait talks on the basis of the so-called "1992 consensus," which describes that both sides concede separate interpretations of the "one China" policy.
The "consensus" is not universally recognized as valid in Taiwan.
Ma said that since China's state-run news agency Xinhua did not make any mention of "one China, with each side having its own interpretation" in its Chinese news release, he would remain cautious about Hu's comments and continue to seek more information on the content of Hu and Bush's conversation.
"If the US and Chinese presidents both accepted the concept of `one China, with each side having its own interpretation,' it should have a positive impact on future cross-strait relations," Ma said.
In its English news release, Xinhua quoted Hu as telling Bush: "It is China's consistent stand that the Chinese mainland [sic] and Taiwan should restore consultation and talks on the basis of the 1992 consensus."
The report said Hu also expressed appreciation to the US for its "one China" policy, and "opposing" Taiwanese independence, last week's referendum on UN membership and Taiwan's bids to join international organizations that require statehood.
Xinhua only mentioned the "1992 consensus" in the Chinese version of the report.
Ma said it was important for China to accept that the "1992 consensus" stipulated separate interpretations of "one China."
He said that Taiwan interpreted "one China" to mean "the Republic of China (ROC)."
Burghardt yesterday expressed optimism about future US-Taiwan relations, saying he believed the two nations' relationship would be "excellent" under Ma's administration.
Prior to his one-hour closed meeting with Ma, Burghardt had visited President Chen Shui-bian (陳水扁) at the Presidential Office.
Burghardt told Chen during the meeting, which was open to the media, that the US would not come between Taiwan and China in terms of dealing with cross-strait issues and preconditions for cross-strait dialogue.
"The way in which you choose to deal with the tough issues, or the preconditions set by one side or the other, are your business, not our business," Burghardt said.
"But personally I have great faith that people will find ways to talk once again, just as they found a way in the past," he said. "Americans have always respected and been impressed by the ability of huaren [Chinese] on both sides of the Strait to find a way to talk with each other."
The AIT chairman made the remarks after Chen sought his views on two questions: whether the so-called "1992 consensus" actually existed and whether the Cairo Declaration was a legitimate document on which China could base a claim for sovereignty over Taiwan.
Burghardt declined to express an opinion in the presence of the media, saying that, "I think it's perhaps best that we do those in private. I don't trust my ability as a historian to do so in public."
Chen said he wished Burghardt could give him an account of Bush's stance on the "1992 consensus" when he spoke to Hu on Wednesday.
Chen said the "consensus" had been made up by then Mainland Affairs Council chairman Su Chi (蘇起) on April 28, 2000, a few weeks before Chen's inauguration, and that Su had openly admitted that he had made up the term.
The president said it would be a good thing for Taiwan and China to engage in dialogue, "which is an objective that we have worked hard for the past eight years."
Nevertheless, it would be very strange if cross-strait dialogue were to be based on the "1992 consensus," he said.
"Eight years ago, the Beijing government also asked me to accept the so-called `1992 consensus,' but we couldn't accept it because we believe it does not exist," Chen said.
"If such a consensus had truly been reached during talks in Hong Kong between China and Taiwan in 1992, why did nobody mention it at the time and why was no reference to it made between 1992 and 2000?" Chen said.
Beijing would never accept the Chinese Nationalist Party's (KMT) definition that "each side has its own interpretation of `one China,'" he said, as that would imply "two Chinas" or "one Taiwan, one China."
"Beijing refuses to accept that Taiwan is a sovereign country and would not agree that `one China' could refer to the ROC," Chen said.
He said that the Cairo Declaration could not be used as a legal foundation for China to claim sovereignty over Taiwan.
Not only was the declaration not signed by US president Franklin Roosevelt, British prime minister Winston Churchill and dictator Chiang Kai-shek (蔣介石), but there was neither a date nor any official affirmation of the document, Chen said.
"When Churchill was questioned about it in the British parliament, he said that the Cairo Declaration could not be seen as a legal foundation for China to claim it owned sovereignty over Taiwan," Chen said.
In a meeting with print media later yesterday, Burghardt reiterated the US' apparent "hands-off" approach to possible Taipei-Beijing talks, stressing that Washington's interpretation of the "1992 consensus" was "not important" and that the US would be pleased to see both sides reach a compromise on a vehicle for negotiations.
"The US interpretation is not important. How to determine a basis for negotiations was something that was decided by the mainland [sic] and Taiwan in 1992," Burghardt said.
No matter what language or which term is used to label the 1992 meeting, whether it be an "agreement" or a "consensus," it was an agreement to enable talks to be held, he said.
"If the two sides can find a formula that works for them and feel comfortable with, without betraying [their] own core interest in coming up with the formula, then what is there for the US to have an opinion about?" Burghardt said.
He said the US has long maintained that it had no intention to function as a mediator in cross-strait negotiations and that he surmised both sides might not even welcome US intervention in the process.
The "1992 consensus" also dominated much of the discussion in the legislature yesterday.
In response to a question from KMT Legislator John Wu (吳志揚), Premier Chang Chun-hsiung (張俊雄) said he remained unsure if China had extended a gesture of goodwill by calling for cross-strait negotiation on the basis of the "1992 consensus."
Chang said the government had reservations about the content of the Bush-Hu discussion, because there seemed to be a "gap" between China's official press release after the telephone call and the "general interpretation of the consensus" in the world.
"We are not confident that China meant it" when Hu said China was willing to resume cross-strait negotiation on the basis of the "1992 consensus," Chang said.
Mainland Affairs Council Chairman Chen Ming-tong (陳明通) said that he would not consider the result of the Bush-Hu discussion a major improvement in cross-strait relations unless Hu publicly stated that he agreed Taiwan could define "one China" as the ROC.
"Cross-strait relations are complicated. We should not cheer too soon," Chen Ming-tong said. "Over the years, we have not benefited from our ambiguity strategy. What we need now is a clear-cut strategy."
Wu, however, called the result of the Bush-Hu dialogue a "good beginning."
Wu said that it was more important that the international community dealt with issues concerning cross-strait relations based on the "1992 consensus."
He also rejected the Democratic Progressive Party caucus' previous claim that the KMT's emphasis on the consensus was part of its plan to "sell out" Taiwan.
"If the KMT's support of the 1992 consensus were a strategy to sell out Taiwan, the KMT would not have won the presidential election," Wu said.
Additional reporting by Jenny W. Hsu and flora wang
Comments will be moderated. Keep comments relevant to the article. Remarks containing abusive and obscene language, personal attacks of any kind or promotion will be removed and the user banned. Final decision will be at the discretion of the Taipei Times.