South Korea rejects offer to extend summit
HOMESICK? An affable Kim Jong-il suggested Roh Moo-hyun stay in North Korea for another day, but the South Korean president stalled before rejecting the idea
South Korean President Roh Moo-hyun turned down a proposal by the North Korean leader yesterday to extend their summit for another day, South Korean media reported.
The unsourced pool report from Pyongyang said Roh would issue a joint statement with North Korea's Kim Jong-il today and return to Seoul the same day, as scheduled.
Kim had proposed stretching the rare summit meeting between the two states into another day so that talks could be more substantive and relaxed.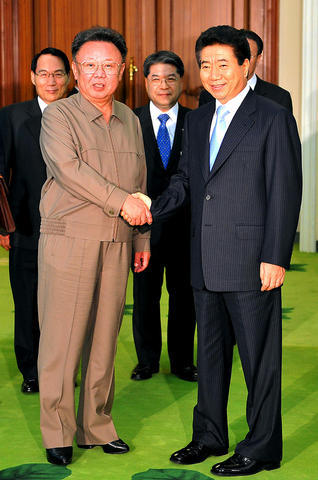 North Korean leader Kim Jong-il, left, and South Korean President Roh Moo-hyun shake hands during the summit in Pyongyang, North Korea, yesterday.
PHOTO: AFP
Earlier, Roh's spokesman told reporters in Seoul: "Chairman Kim Jong-il has suggested that President Roh's stay in Pyongyang be extended by an extra day."
Spokesman Yoon Seung-yong said Kim had requested the extension so that the leaders could talk in a more relaxed atmosphere.
A spokesman for the Seoul government said later that North and South Korea had achieved "good results" in the summit and decided against extending their talks.
Developments in six-nation nuclear talks may have warmed the mood.
North Korea, which tested an atomic bomb last October, has agreed to disable its key nuclear facilities and provide a complete list of all nuclear programs by the end of this year, under a deal made public late yesterday in Beijing.
"We estimate that the talks were sufficient and candid and have achieved good results," Roh's spokesman said from Pyongyang.
"President Roh himself said he was satisfied with the outcome. We will be able to announce the outcome in the form of a declaration before [today's] farewell lunch."
Cheon said Kim himself withdrew his proposal to keep talking into tomorrow after "the talks proceeded well in a very good atmosphere and efficiently and reached agreement earlier than expected."
The pair shook hands in an apparently friendly manner after the talks ended, television footage showed.
Cheon gave no details of what had been agreed on but said some progress was made on a peace settlement, economic cooperation and reconciliation.
Seoul has said peace and prosperity would be the overriding themes of this week's meeting between two nations still technically at war following the 1950 to 1953 Korean War.
But any peace declaration would be mainly symbolic in the absence of a multilateral treaty formally ending the war, which also involved the US and China.
TV footage showed Roh, who had earlier spoken of disagreements and lack of trust, clearly taken aback by Kim's surprise suggestion of extending the talks. He said he would have to discuss any extension with his security and protocol teams.
"Can't you make a decision, Mr President?" responded a teasing Kim, whose own power in the hardline communist state is absolute.
But Cheon quoted Kim as saying later: "We had enough talks. I don't see any need to extend it. Your people are waiting for your return."
Roh later attended the Arirang Festival, a one-of-a-kind propaganda extravaganza in which up to 100,000 people perform in unison.
Conservatives have denounced his decision to go, saying it traditionally glorifies a sworn enemy. Seoul officials said the performance Roh attended had been toned down.
Roh gave Kim dozens of DVDs of South Korean films, which are banned for ordinary North Koreans, delighting the film buff leader.
Roh and Kim had a morning and an afternoon session of talks. Roh described his morning session as "honest and frank," but said the two sides had some disagreements and must learn to trust each other.
Roh said he and Kim "didn't share the same views in all aspects but I confirmed Kim's strong will to stabilize peace and the need to set a direction for the future."
Also see story:
Wang Tuoh says Korean summit offers inspiration
Comments will be moderated. Keep comments relevant to the article. Remarks containing abusive and obscene language, personal attacks of any kind or promotion will be removed and the user banned. Final decision will be at the discretion of the Taipei Times.