ASEAN to set up human rights commission
Southeast Asian foreign ministers agreed yesterday to set up a regional human rights commission, overcoming fierce resistance from military-ruled Myanmar.
A charter being drafted for the 10-member ASEAN will include a provision mandating creation of the human rights body, Philippine Foreign Secretary Alberto Romulo said.
A diplomat involved in negotiations on the issue said lower-level officials finished a draft of the charter on Sunday with a reference that Myanmar did not accept the commission, leaving it to foreign ministers to resolve the issue at their annual meeting yesterday.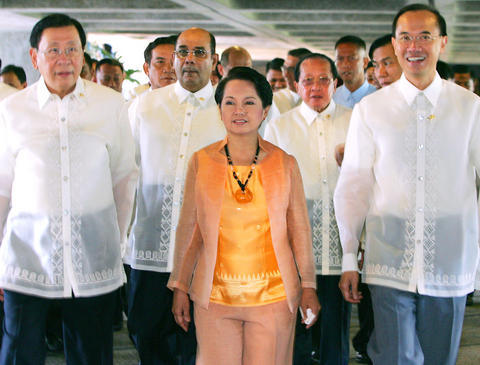 Philippine President Gloria Macapagal Arroyo, center, walks together with foreign ministers of ASEAN to address the opening of the 40th ASEAN Ministerial Meeting at the Philippine International Convention Center in Manila yesterday.
PHOTO: AP
"We have agreed that there will be a human rights body," Singapore Foreign Minister George Yeo said after the ministers met for four hours to discuss the draft. "There was a consensus."
Yeo said details will be settled later but that the foreign ministers hoped to have everything worked out by the time that ASEAN leaders hold their annual summit in November, when they plan to approve the charter.
"I'm very optimistic," Yeo said.
Asked about Myanmar's resistance and reaction to the agreement, he said: "I think Myanmar takes a positive attitude toward all these developments."
Details of the agreement were not immediately available. Cambodia, Laos and Vietnam had suggested earlier that they were not ready for the immediate establishment of such a body, and ASEAN members might be allowed to join the commission at a later date.
Myanmar, Cambodia, Laos and Vietnam -- ASEAN's most recent members -- all have authoritarian or single-party governments.
The Philippines had pressed strongly for an ASEAN rights body, with Romulo saying it would give the bloc "more credibility in the international community."
"I would say most of the ASEAN countries were in favor of this from the very beginning. We had to agree on this, we had to get a consensus. Now we have the consensus," he said.
Some ASEAN countries fear any scrutiny of their human rights, and the group has traditionally held to a cardinal policy of noninterference in each other's affairs.
Human rights groups complain that this noninterference principle fostered undemocratic governments in the region.
The new charter is also expected to address the diverse group's decision-making process, which is often slowed by a reliance on consensus.
The foreign ministers were unable to decide whether to shift to a voting system and will pass the issue on to their leaders, officials said.
Comments will be moderated. Keep comments relevant to the article. Remarks containing abusive and obscene language, personal attacks of any kind or promotion will be removed and the user banned. Final decision will be at the discretion of the Taipei Times.