Fuel subsidy available for taxis and bus companies
NOT OVERJOYED Despite the new subsidies, many bus operators remained unhappy that only those who buy diesel from CPC Corp, Taiwan would benefit
Taxis and public transportation vehicles will receive a fuel subsidy of NT$2 (US$0.06) and NT$3 per liter respectively, effective immediately, the Cabinet announced yesterday.
"We want to encourage the public to take advantage of the public transport system instead of driving their own vehicles," Minister of Economic Affairs Steve Chen (陳瑞隆) said during yesterday morning's Cabinet meeting.
He said that taxi drivers would receive a subsidy of NT$2 per liter of fuel on up to 550 liters per month.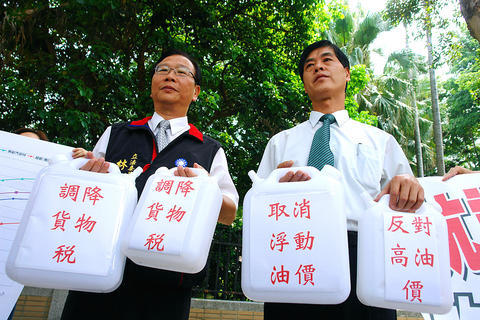 Chinese Nationalist Party (KMT) legislators Chen Chao-jung, right, and Lin Teh-fu demonstrate outside the Executive Yuan yesterday to protest high gas prices. Their signs read, ''Opposed to high oil prices,'' ''Abolish fluctuating oil prices'' and ''Lower commodity taxes.''
PHOTO: CNA
Public transportation vehicles, including both local and long-distance buses, will be subsidized NT$3 per liter of diesel.
The maximum volume of fuel for which bus operators are eligible for the subsidy will be the average amount of diesel each company used per month between last July and last month.
Chen said that the reimbursements for public transport vehicles would only cover companies that have contracts for fuel with CPC Corp, Taiwan (台灣中油).
He said that the subsidies would remain in place until either gas prices fall or bus and taxi fares are increased.
Chen reiterated that the floating mechanism for setting gas prices would not be changed.
"We may adjust it but we will not suspend it," Chen said. "The mechanism reflects the unstable nature of gas prices. It is impossible for us to return to the situation we had in the past."
The Ministry of Transportation and Communications also confirmed yesterday that both long-distance bus operators and local bus operators have said they would not raise ticket prices in the short term despite rising gas prices.
Chang Shun-ching (張舜清), a section chief at the ministry's Department of Railways and Highways, said the weighted average price of diesel had already exceeded the ministry's fare adjustment threshold of NT$25.63 per liter.
Chang said that the department had decided not to raise fares because the Executive Yuan had already indicated that it was considering subsidizing bus service providers to ensure continued operations during the current period of high fuel prices.
Directorate General of Highways head James Chen (陳晉源) said last week that bus operators were unlikely to increase fares immediately because they would only be able to raise them by either NT$1 or NT$2 and then would not be able to increase them again for another four months.
Despite the Executive Yuan's new subsidies, many operators complained that only those who purchase diesel from CPC Corp, Taiwan gas stations would benefit from the policy.
Those who use Formosa Petrochemical Corp or other gas station franchises for their diesel do not qualify for the subsidy.
Chang said that private gas stations were more flexible in negotiating their deals with bus operators and were therefore not included in the plan.
Comments will be moderated. Keep comments relevant to the article. Remarks containing abusive and obscene language, personal attacks of any kind or promotion will be removed and the user banned. Final decision will be at the discretion of the Taipei Times.