Musharraf grants clerics more time to resolve crisis
Pakistani President Pervez Musharraf gave clerics more time yesterday to persuade defiant militants to lay down their arms and surrender a mosque they have defended against thousands of government troops, security officials said.
The decision came at a high-level meeting grappling with how to crack the weeklong armed resistance at the Lal Masjid, or Red Mosque, in the heart of the capital.
The officials, who demanded anonymity because they were not authorized to speak to the media, said among the mediators would be Taqi Usmani, a former teacher of the besieged mosque's senior cleric, Abdul Rashid Ghazi.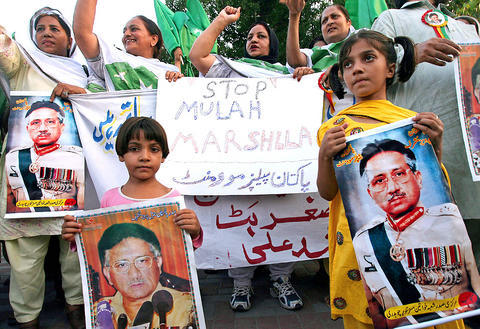 Pro-government activists shout slogans as they hold pictures of President Pervez Musharraf during a demonstration in Lahore, Pakistan, on Sunday.
PHOTO: AFP
Some clerics, including Usmani, have attempted without success to persuade Ghazi to end the siege peacefully since the crisis erupted.
The government claims the mosque is being defended by wanted terrorists.
A group of about 20 lawmakers from radical religious parties were stopped by soldiers from approaching the mosque as intense gunfire again erupted in the area mid-afternoon.
The group was attempting to also act as mediators.
A mosque spokesman, meanwhile, claimed hundreds of men and women died in a military assault on the mosque and adjoining Islamic school.
It was impossible to verify this or the claim of terrorist involvement in the escalating battle between the government and the defenders of the mosque.
Musharraf sent in troops last Wednesday, a day after supporters of the mosque's radical clerics fought gunbattles with security forces sent to contain their campaign to impose Taliban-style rule in the capital.
The siege sparked an anti-government protest yesterday by some 20,000 tribesmen, including hundreds of masked militants wielding assault rifles, in the northwest region of Bajur.
Many chanted "Death to Musharraf" and "Death to America" in a rally led by Maulana Faqir Mohammed, a cleric wanted by authorities and who is believed to be a close lieutenant of al-Qaeda No. 2 leader Ayman al-Zawahri.
Comments will be moderated. Keep comments relevant to the article. Remarks containing abusive and obscene language, personal attacks of any kind or promotion will be removed and the user banned. Final decision will be at the discretion of the Taipei Times.