Lal Masjid cleric says `blood' may spark revolution
THE LONG WAIT Pakistani authorities are facing great pressure to end the siege of the Red Mosque, as an extended standoff could threaten the government
A cleric leading militants besieged in an Islamabad mosque hopes their "martyrdom" would spark an Islamic revolution in Pakistan, he said in a statement published by newspapers yesterday.
Surrounded by government forces, Abdul Rashid Ghazi took over leadership of a Taliban-style movement at Lal Masjid, or Red Mosque, after his brother was caught trying to escape a day after the siege began last Tuesday.
"We have firm belief in God that our blood will lead to a revolution in the country," a grey-bearded Ghazi said in a statement characterised as a "will" by Jang, Pakistan's biggest selling Urdu language newspaper.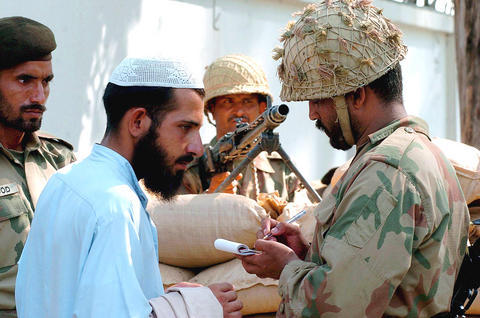 Soldiers register a resident of Islamabad during a break of curfew imposed by security forces around the besieged Red Mosque in Islamabad, Pakistan, on Saturday.
PHOTO: EPA
"God willing, Islamic revolution will be the destiny of this nation," wrote the rebel cleric, whose movement is symptomatic of militancy and extremism seeping into Pakistani cities from tribal areas near the Afghan border.
Pakistani President Pervez Musharraf, who was urged by Pakistani moderates to use force against the Lal Masjid radicals far sooner, warned the militants on Saturday that they would be killed if they did not surrender.
Ghazi -- polite, articulate and soft-spoken -- said his followers would sooner die.
Many of the 5,000 students enrolled at the two Islamic schools affiliated to Lal Masjid before the violence began came from Taliban hotbeds.
Officials branded Ghazi a liar after he told Pakistani news channels yesterday that more than 300 followers, mostly female students, had been killed during intense overnight gunbattles.
Ghazi has claimed that he has 1,900 followers in the mosque, while his brother said there were 850, including 600 women.
Ghazi denied children were coerced into staying in the compound, and said they remained out of support for his cause.
"We want justice for poor people. They should get bread. We want an end to adultery, bribery, oppression, obscenity and nepotism. Implementation of the Islamic system is panacea to all these problems," Ghazi wrote.
Meanwhile, Pakistani forces were moving closer to a full-scale assault on the mosque, after a senior army commando was shot dead in fierce clashes.
The military said Colonel Haroon Islam died after an operation to blast through part of the wall surrounding the fortified complex in a bid to free the women and children allegedly being used as human shields.
Officials said the government was under pressure to end the six-day siege, which has killed at least 24 people, as initial plaudits for its tough stance turned to questions about how long the standoff could be allowed to last.
"The government may have to rethink its strategy in the light of the sad martyrdom of a senior army official and the resistance that has been shown by what appears to be highly trained militants," Deputy Information Minister Tariq Azeem said.
Musharraf and Pakistani Prime Minister Shaukat Aziz spoke by telephone yesterday morning, after Musharraf attended the soldier's funeral, to weigh up the government's options.
"They have discussed how to bring the crisis to a swift end, including possible assault on the compound," a top official said.
"You are damned if you do, damned if you don't. It is a very precarious situation," the official said.
"Intelligence reports indicate the longer the siege goes on the greater the threat posed by the hardliners loyal to the Red Mosque in other parts of the country," the top official said.
Comments will be moderated. Keep comments relevant to the article. Remarks containing abusive and obscene language, personal attacks of any kind or promotion will be removed and the user banned. Final decision will be at the discretion of the Taipei Times.