Kenyan passenger plane crashes
SEARCH UNDER WAY The six-month-old Boeing 737-800 aircraft sent out a distress signal soon after taking off from Douala in Cameroon during a violent storm
A Kenya Airways passenger plane with 114 people on board crashed yesterday after taking off from Douala airport in Cameroon on a flight to Nairobi, officials said.
An airline official said rescue teams were trying to find the site of the crash, and there was no immediate word on any casualties.
"We are trying to get to the area of the crash, but the weather is really bad. We are getting help from the army," a Kenya Airways official said in Cameroon.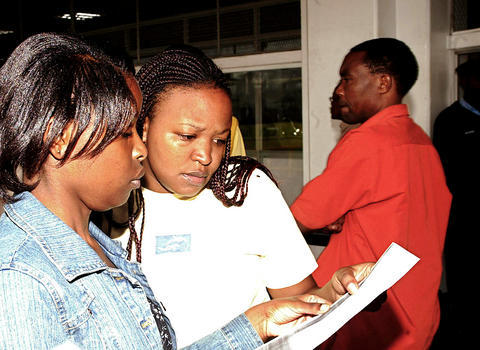 Relatives check the passenger list on hearing news of the missing Kenya Airways plane at Jomo Kenyatta airport in Nairobi, Kenya, yesterday.
PHOTO: AP
Air traffic controllers picked up a distress signal from the missing airliner just after it took off from Douala during a violent storm, a source close to the Agency for the Safety of Aerial Navigation in Africa said.
Two Cameroonian army helicopters began searching a wide area south of the line between Douala and the capital Yaounde, 250km to the east, to try to locate the aircraft.
"The plane has crashed," said an official with the Kenyan Civil Aviation Authority, who asked not to be named.
However, the chief executive officer for Kenya Airways, Titus Naikuni, said he could not confirm the crash.
Speaking at a news conference in Nairobi, he revised an initial figure of 115 on board to 114, including nine Kenyan crew members and 105 passengers.
Naikuni said there were a total of 79 Africans of various nationalities on board the plane, including the nine Kenyan crew, as well as 15 Indians, six Chinese, five Britons, one Swiss, one Swede and one US citizen, and another six who had not been identified.
The plane, a six-month old Boeing 737-800 was flying from Abidjan in Ivory Coast to Nairobi via Douala.
Most of the passengers were connecting through Nairobi to other destinations outside Kenya.
Cameroonian authorities set up two emergency centers, one in Yaounde and the other in Douala, to coordinate search operations, and a crisis center was established at Kenya Airways headquarters at Nairobi airport.
The Kenyan government was "saddened" by news of the missing flight, spokesman Alfred Mutua told a news conference.
"We have activated all relevant government departments in the search and rescue of the missing," Mutua said. "The government will do everything to unearth the cause of this accident in order to prevent it from occurring again."
Comments will be moderated. Keep comments relevant to the article. Remarks containing abusive and obscene language, personal attacks of any kind or promotion will be removed and the user banned. Final decision will be at the discretion of the Taipei Times.