Two still missing after evacuation of Greek cruiser
SINKING FEELING Some 1,600 passengers, mainly from the US, Canada and Spain, were rescued from the liner after it struck a reef and took on water
Divers and coast guard patrols yesterday searched for two French tourists missing since the evacuation of 1,600 passengers and crew from a Greek cruise ship that sank near the Aegean island of Santorini.
Four Greek navy divers, a coast guard patrol boat and a navy warship were trying to locate the missing tourists, identified as Jean-Christophe Allain, 45 and his 16-year-old daughter Maud, the merchant marine ministry said.
"The divers will access the ship by breaking into the portholes if necessary," a ministry spokesman said.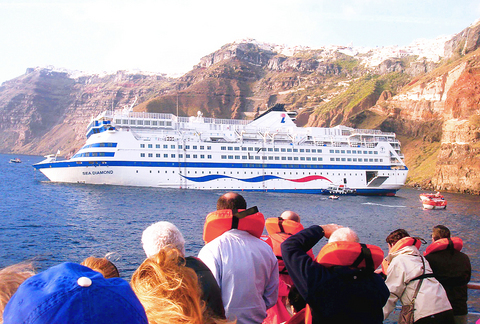 Rescued passengers in a lifeboat take photographs of the cruise ship Sea Diamond near Santorini, Greece, on Thursday.
PHOTO: AP
The pair from Nantes, western France, were reported missing by Allain's wife Anne several hours after the accident on Thursday.
"Everything happened in fractions of a second," said Greek Tourism Minister Fanny Palli-Petralia, who sailed to Athens with Anne Allain and other passengers returning on other ships yesterday.
"She told me their cabin filled with water. She managed to pry open the door and plunged out, but she wasn't sure if the others followed," the minister told private TV station Alpha.
Early reports indicated the pair may have been trapped on the ship as the water-tight doors closed.
"We didn't know what to do, we had no information," a middle-aged passenger told reporters in the Greek mainland port of Piraeus.
The Greek-flagged cruise ship, the Sea Diamond, listed dangerously after hitting a reef half a nautical mile offshore as it was preparing to dock at Santorini, prompting a major evacuation effort.
The ship sank early yesterday morning in a nearby bay where it had been towed after the passengers, most of them from the US, Spain and France, had been taken off.
The cause of the accident was not immediately clear. The ship's captain had undergone lengthy questioning and several reports suggested he could be charged later yesterday.
The 400-strong crew used boats and ladders to evacuate the passengers, assisted by a flotilla of vessels from the island, other cruise ships and Greek navy and air force helicopters.
Cyprus-based Louis Hellenic Cruise Lines, which operated the 143m Sea Diamond, had initially reported that all passengers and crew had been evacuated safely.
The first 296 passengers and 38 crew arrived early yesterday at Piraeus on board another cruise ship, and were being taken to Athens airport for flights home.
Another 726 passengers and 314 crew arrived later in the day, while the remainder opted to spend the night on Santorini, the ministry said.
Comments will be moderated. Keep comments relevant to the article. Remarks containing abusive and obscene language, personal attacks of any kind or promotion will be removed and the user banned. Final decision will be at the discretion of the Taipei Times.