China relents, allows AIDS doctor to go to US
An elderly doctor who embarrassed the Chinese government by exposing blood-selling schemes that infected thousands with HIV said yesterday that authorities had relented and will allow her to travel to an awards ceremony in the US.
The change comes after police in central Henan Province had patrolled outside the home of Gao Yaojie (高耀潔), 80, for the last two weeks, preventing her from leaving and stopping everyone except close relatives from visiting.
"This morning I went downstairs but I did not see any police," said Gao, who added she did not know why the government had changed its mind.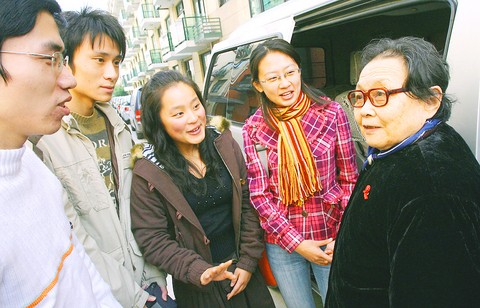 AIDS campaigner Gao Yaojie, right, talks with students during an AIDS lecture tour in Shanghai on Nov. 30 last year. Beijing has relented and agreed to let the 80-year-old Gao travel to the US to receive an award.
PHOTO: AFP
Gao, who exposed blood-selling schemes that infected thousands with HIV, was scheduled to be honored next month by Vital Voices Global Partnership, a nonprofit group supported by Democratic Senator Hillary Rodham Clinton.
She had apparently been detained by authorities at her home to prevent her from applying for a US visa, but Gao said she now expects to pick up the visa on Feb. 23.
"I expect to leave for the United States on Feb. 25," she said.
Gao said she was visited on Friday night by Chen Quanguo (陳全國), the deputy secretary of the Henan Provincial Communist Party Committee, who told Gao she could go.
He offered to help arrange the trip, which Gao turned down.
A man who gave his surname as Fang, of the News Office under the Propaganda Department of the provincial Communist Party, said the government had always allowed Gao to make the trip and that it was "irresponsible" to say otherwise.
"We respect Gao's personal decision," Fang said.
Aides to Senator Clinton said that Chinese Ambassador to the US Zhou Wenzhong (周文重) called her on Friday to say Gao would be allowed to travel.
Melanne Verveer, chairwoman of Vital Voices, said she was elated by the news and called Gao "a world-recognized leader on behalf of an issue critically important to China and the world community."
Besides the police presence, Gao said telephone service at her home was restored on Wednesday after being cut for 10 days.
It is at least the third such run-in with authorities for Gao.
In 2001, she was refused a passport to go to Washington to accept an award from a UN group, and in 2003 she was prevented from going to the Philippines to receive the Ramon Magsaysay Award for Public Service.
Comments will be moderated. Keep comments relevant to the article. Remarks containing abusive and obscene language, personal attacks of any kind or promotion will be removed and the user banned. Final decision will be at the discretion of the Taipei Times.