Tornado kills at least 19 in Florida
Deadly thunderstorms and a tornado flattened homes and cut power in central Florida, killing at least 19 people, as rescuers searched for survivors in a tangle of metal, wood and bricks.
Governor Charlie Crist declared a state of emergency in four counties of the state after pre-dawn storms on Friday left a trail of devastation, with hundreds of homes and at least one church flattened by the highly charged winds.
"The devastation is unimaginable" Crist told CNN television.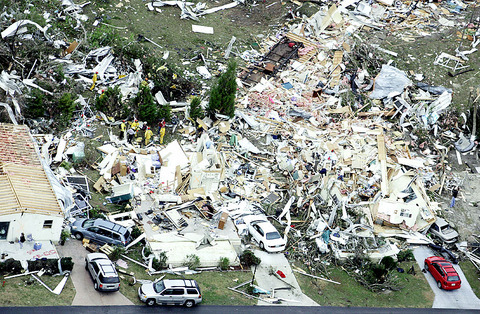 Mobile homes lie destroyed in The Villages area near Lady Lake, Florida, after an early morning tornado tore through the development on Friday.
PHOTO: AFP
There were 13 fatalities in Paisley and six in Lady Lake, Christopher Patton, a spokesman for Lake County said.
Lake County school superintendent Anna Cowin said two of her students had been confirmed dead.
"One family was hit with much tragedy. Both parents were killed. There are four in the family and one of their children also died," she said.
The director of Lake County emergency services, Jerry Smith, told a news conference the search continued for survivors.
"We are doing house-to-house searches at this time," he said.
A area of some 51km2 was ravaged by the storms.
"There are probably thousands of homes in that area. It's going to take a significant amount of time to get specific answers about how much damage is in that area," he said.
Some 13,000 people were reportedly left without electricity after the storm, which uprooted trees and took down power lines.
Residents likened the storms to a freight train that slammed into their homes.
"I heard the noise, and it sounded like a train coming, I ran to the bathroom. The tree went right through the bedroom window where my head was," local resident David Wholly told the Orlando Sentinel newspaper.
Comments will be moderated. Keep comments relevant to the article. Remarks containing abusive and obscene language, personal attacks of any kind or promotion will be removed and the user banned. Final decision will be at the discretion of the Taipei Times.