Suicide bombers kill 70 at Iraq university
STATISTICS Baghdad was left reeling from twin bombings at a university, while UN officials said in a report that an estimated 34,000 civilians were killed in Iraq last year
Chanting and weeping, Iraqis yesterday buried victims of a double car bombing at a leading Baghdad university, and the police raised the national death toll from the attack to 70 as outrage mounted over the deadliest attack in Iraq in nearly two months.
The violence was unrelenting yesterday, with a suicide car bomb exploding at a checkpoint leading to a police station in the oil-rich northern city of Kirkuk, killing seven people and wounding 25.
A mortar attack struck a neighborhood in Iskandariyah, 50km south of Baghdad, killing a woman and wounding 10 other people, while police said they found the bound body of an Iraqi policeman hanging by electric wire, two days after he was kidnapped while going to his home in the same area.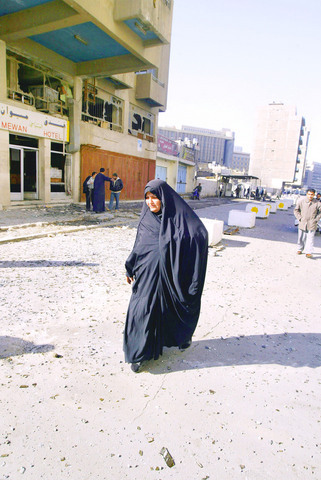 An Iraqi woman walks amid shattered glass at the site where a roadside bomb exploded near Tayaran Square in central Baghdad yesterday.
PHOTO: AFP
Gunmen in a car also opened fire on two brothers, aged 30 and 35, on their way to work as construction workers in Mahaweel, 60km south of Baghdad, killing one and wounding the other, police said.
Iraqi lawmakers and students, meanwhile, called for stepped up measures for educational institutions after twin car bombs tore through al-Mustansiriya University as students left classes on Tuesday -- the same day the UN reported 34,452 civilians were slain last year, nearly three times more than the government reported.
Baghdad streets were crowded with cars and minivans carrying wooden caskets of the victims. Many headed to the holy city of Najaf where Shiites prefer to bury their dead, although some were headed to a Sunni cemetery in Baghdad, reflecting the religiously mixed nature of the university.
Iraqi state television reported that the university would be closed through today to allow for cleanup as firefighters and street sweepers worked to clear the debris.
Hussein Mohammed, a lecturer in the university's French language department, said the workers were still finding human remains and only some guards and teachers were on the campus.
"We are trying to heal our wounds and start again," he told reporters in a telephone interview.
Some university professors participated in the funeral procession, along with relatives and friends of the students killed, chanting "Shiites and Sunnis are brothers."
Police raised the casualty toll from the attack to 70 people killed and 133 wounded.
Higher Education Minister Abed Theyab visited some of the wounded in several hospitals around the capital and urged all sides to leave educational institutes out of conflicts.
The Iraqi parliament held a moment of silence for the students who were killed.
A total of 142 Iraqis were killed or found dead on Tuesday, in what appeared to be a renewed campaign of Sunni insurgent violence against Shiite targets.
The sharp uptick in deadly attacks coincided with the release of UN figures that showed an average of 94 civilians died each day in sectarian bloodshed last year.
also see story:

Iraq executions fuel calls to abolish death penalty
Comments will be moderated. Keep comments relevant to the article. Remarks containing abusive and obscene language, personal attacks of any kind or promotion will be removed and the user banned. Final decision will be at the discretion of the Taipei Times.