Rescuers continue search for missing Adam Air 737
TIME TICKING BY As nightfall approached, Indonesian air force and navy searchers had still found no trace of the jetliner carrying 102 people that disappeared on Monday
Rescuers scoured the ocean for a missing jetliner yesterday, one day after senior Indonesian officials erroneously said the Boeing 737's charred wreckage had been found in a remote mountainous area and that a dozen people survived.
Three navy ships set sail soon after sunrise in the Makkasar Strait and five air force planes took to the skies, searching for signs of the Adam Air plane, said Bambang Karnoyudho, the head of the National Search and Rescue Agency.
But as nightfall approached, nothing had been found, officials said, preparing to continue with a land and sea search early today.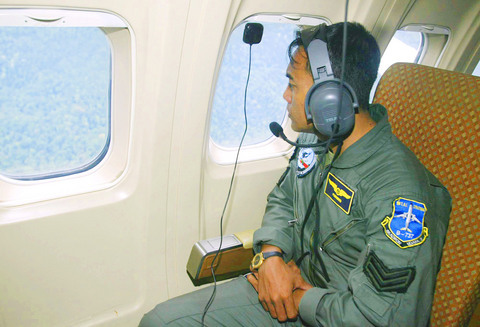 A member of the Indonesian Air Force looks out the window during a search for the missing Adam Air jetliner over Sulawesi island, Indonesia, yesterday.
PHOTO: AP
"God willing, we can find it soon," Karnoyudho said.
The Adam Air plane carrying 102 people was flying from Indonesia's main island of Java to North Sulawesi's provincial capital of Manado when it disappeared on Monday in stormy weather after sending out distress signals -- one over mountainous jungles and the other along the coast.
Rescue teams spent more than 10 hours on Tuesday hiking through slippery forest paths in a mountainous region of Sulawesi's western coast but found nothing, prompting authorities to expand their search yesterday.
Karnoyudho said based on radar and satellite readings he thought it most likely that the Adam Air plane had fallen into the sea.
Air Force Squadron Commander Lieutenant Colonel Mudjianto, whose team followed the plane's scheduled flight path to the site where its last distress signal was picked up, said visibility was good yesterday as his team searched a roughly 777km2 triangle of sea and land.
"We flew over the area four times ... but there was no sign of the plane," Mudjianto said.
Relatives of the passengers -- some camped out at the Adam Air counter at the Manado airport -- were losing patience after being misinformed one day earlier about the fate of the plane.
Indonesian aviation, military and police officials -- and the airline itself -- had said the plane had been found in a remote part of Sulawesi. They said that 90 people on board had perished, but that the remaining 12 may have survived.
Descriptions were vivid, with officials saying corpses and debris from the plane were scattered over a 300m area of forest and jagged cliffs -- highlighting the often unreliable and chaotic nature of disaster relief efforts in the world's largest archipelagic nation.
Aviation experts say search operations could take time.
"In an area of low population density, particularly if it is in inhospitable terrain -- such as jungle, or a deep ravine or covered by a canopy -- it could sit for a long time without being found," said Laurence Benn, head of the Center for Civil Aviation in London.
Comments will be moderated. Keep comments relevant to the article. Remarks containing abusive and obscene language, personal attacks of any kind or promotion will be removed and the user banned. Final decision will be at the discretion of the Taipei Times.