Head of Somalia's interim government enters Mogadishu amid angry protests
Ali Mohamed Gedi, the head of Somalia's interim government, yesterday entered Mogadishu amid protests by thousands over the presence of Ethiopian troops in the capital.
Gedi traveled into Mogadishu in a high security convoy, protected by about 100 Ethiopian soldiers, one day after the leaders of Islamist forces abandoned the city.
Gedi's government, whose fighters forced the Islamists out with the help of the Ethiopian military, plans to enforce three months of martial law in a bid to reestablish order.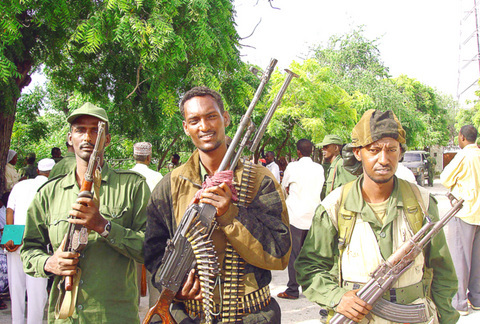 Armed government soldiers stand guard in Mogadishu during a visit by Somali transitional government officials yesterday.
PHOTO: AFP
Looting and gunbattles erupted between rival clan-based militias after Islamist leaders left.
Protesters, chanting anti-Ethiopian slogans, threw stones and burnt tires as the prime minister headed into the capital. Hundreds of Ethiopian troops and tanks were already in the city.
"Thousands of angry people have started a violent demonstration in the northern part of the city, particularly in Tawfiq and Suuqaholaha areas," said one resident, Abdulsatar Dahir Sabrie.
Gedi said martial law was needed to disarm all the militias.
Speaking to reporters late on Thursday in his home village of Mundul Sharey, north of the capital, Gedi said: "This country has been through a lot of anarchy, so to re-establish order we will have to have an iron hand, especially with the private militia."
Somali Deputy Prime Minister Hussein Mohamed Aidid said the parliament based in Baidoa was expected to endorse the move tomorrow.
The transitional government-Ethiopian alliance had been fighting the Islamists for control of the country since Dec. 20. The conflict erupted after Ethiopia rejected an Islamist demand to withdraw from Somalia.
Islamist fighters still held the port town of Kismayo, where one of their senior commanders vowed they would launch hit-and-run attacks across the country.
Dinari said Mogadishu elders had assured the government of their support, but uncertainty still prevailed in the town. Many Islamist fighters, who swapped their uniforms for civilian clothes and removed their turbans, roamed the streets.
Islamist fighters said their leader Sheikh Hassan Dahir Aweys was in Kismayo about 500km south of the capital, where residents reported Ethiopian jets were flying over the region, apparently on reconnaissance missions.
"We will never surrender to Ethiopians and the government of [President] Abdullahi Yusuf Ahmed," local Islamist commander Sheikh Mohamed Ibrahim Bilal said from Kismayo. "I assure you the Islamic forces are everywhere in the country and you will see the forces operating within days. What we will do is hit and run. We will ambush their convoys everywhere in Somalia."
Ethiopia said its intervention was necessary as the Islamists were a security threat.
also see story:

Two boatloads of NE Africans capsize off Yemen, 17 dead
Comments will be moderated. Keep comments relevant to the article. Remarks containing abusive and obscene language, personal attacks of any kind or promotion will be removed and the user banned. Final decision will be at the discretion of the Taipei Times.