Consumer foundation issues warning on dangerous Christmas merchandise
Although 'tis the season to be jolly, the Consumer's Foundation is reminding the public to just say "no, no, no" to inadequately labeled and possibly dangerous seasonal merchandise.
The foundation says that thirteen Christmas hats, stockings and textile ornaments available on the market tested positive for chemicals containing phosphorus used to make the white textile items look whiter.
Under an ultraviolet lamp, these items glowed in the dark. Although such chemicals are sometimes ingredients in laundry detergents, the consumer foundation said that they can cause skin irritation and possibly be carcinogenic.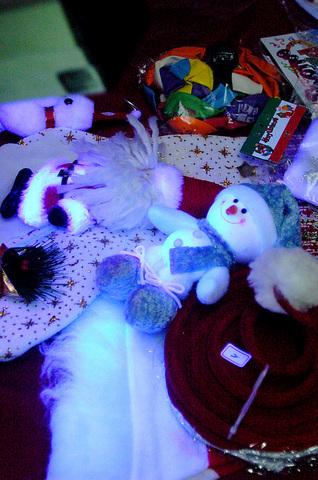 Toys glowing in the dark are displayed at a news conference held by the Consumers' Foundation to announce the results of a test of seasonal merchandise. Several Christmas toys tested positive for phosphorus, a chemical which can cause skin irritation and is carcinogenic.
PHOTO: SEAN CHAO, TAIPEI TIMESN
"In one third of the cases," said the foundation's vice president Cheng Jen-hung (程仁宏), "those items contained enough such chemicals that they are transferable upon contact."
The group's deputy secretary-general Yu Kai-hsiung (游開雄) reminded festive decorators of the risks of snow-in-a-can.
"Say you are decorating your Christmas tree with artificial snow while smoking at the same time," Yu said. "That could be a especially dangerous."
Yu criticized the lack of warnings and instructions on the spray flocking products, which contain flammable gasses.
Since a lot of Christmas-themed merchandise is intended for use by children, the foundation paid special attention to insecurely attached accessories such as bells.
Of the eight items the foundation subjected to a pulling test, seven were found to shed small parts that could present a swallowing risk to small children.
Comments will be moderated. Keep comments relevant to the article. Remarks containing abusive and obscene language, personal attacks of any kind or promotion will be removed and the user banned. Final decision will be at the discretion of the Taipei Times.