`Father of All Turkmen' dies
SUCCESSION STRUGGLE? The deputy prime minister has been named acting president, even though by law the parliamentary speaker is next in line
Turkmenistan's President-for-life Saparmurat Niyazov died yesterday after 21 years of iron rule in which he crushed all dissent and made his Central Asian state one of the world's most isolated countries. He was 66.
A terse report from state TV said Niyazov died early yesterday of heart failure and showed a black-framed portrait of the man who had ordered citizens to refer to him as "Turkmenbashi" -- the Father of All Turkmen. An announcer in a dark suit read a list of Niyazov's accomplishments.
His funeral was set for Sunday in his hometown of Kipchak, where Niyazov built Central Asia's largest mosque, called "Spirit of Turkmenbashi," at a reported cost of more than US$100 million.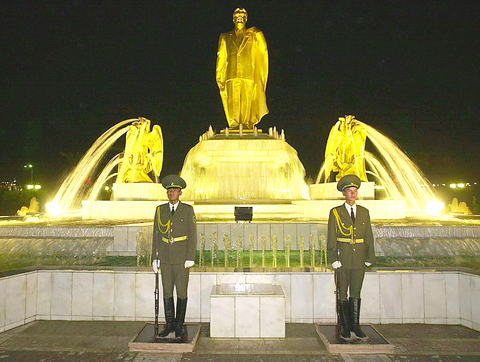 Two soldiers stand guard in front of a statue of Turkmen President Saparmurad Niyazov at the Independence Monument in Ashgabat, Turkmenistan, on Nov. 21, 2001. Niyazov died early yesterday. The gold-leaf statue revolves to face the sun.
PHOTO: AFP
Niyazov, who held all the top posts, left no designated heir and his sudden death raised concerns about the transfer of power.
The State Security Council fixed Tuesday for the nation's highest representative body to meet to decide on a successor. Until then, Deputy Prime Minister Kurbanguly Berdymukhamedov will be acting head of state.
The Constitution required Parliamentary Speaker Overzgeldy Atayev to take over as acting head of state. The council's resolution said the general prosecutor's office has opened a criminal investigation against Atayev, making him ineligible to fill in as president.
The move could herald a battle for succession between rival groups in the administration.
Flags flew at half-mast from public buildings in the capital Ashgabat. Pedestrians appeared quiet and stunned. Most refused to comment to a reporter, an apparent reflection of the country's stifling of opinion and independent media.
"What a sorrow has fallen the Turkmen people," said one woman, who declined to give her name.
The State Security Council declared a seven-day national mourning period, calling on the country's people to show "firmness and strength" and "unite for the sake of our homeland's peace and prosperity."
Niyazov underwent major heart surgery in Germany in 1997 and last month publicly acknowledged for the first time that he had heart disease. But he did not seem seriously ill; two weeks ago he appeared in public to formally open an amusement park named after him outside the capital.
Niyazov had ruled Turkmenistan since 1985, when it was still a Soviet republic. After the 1991 Soviet collapse, he retained control and began creating an elaborate personality cult and turning Turkmenistan into one of the most oppressive of the ex-Soviet states.
He ordered the months and days of the week named after himself and his family, and statues of him were erected throughout the nation, including a revolving statue in gold leaf that rotates to face the sun in Ashgabat.
He is listed as author of the Rukhnama (Book of the Soul) that was required reading in schools. Children pledged allegiance to him every morning.
"His death means a terrible shock for the republic, its residents and the political class. It's comparable to a shock the Soviet Union felt after Stalin's death," Vyacheslav Nikonov, head of the Moscow-based Politika think tank, was quoted as saying by the RIA-Novosti news agency.
The agency also quoted Khudaiberdy Orazov, an opposition leader, as saying he and other opposition leaders will meet soon to discuss how to proceed. Exiled opposition activists said they intended to try to return home.
"Our first task is to return to Turkmenistan within hours. We are discussing now how to do it. In Turkmenistan there is no opposition, they all sit in prisons or under home arrest. But outside the country opposition exists and it is coming back," said Parakhad Yklymov by telephone from Sweden.
Comments will be moderated. Keep comments relevant to the article. Remarks containing abusive and obscene language, personal attacks of any kind or promotion will be removed and the user banned. Final decision will be at the discretion of the Taipei Times.