Radical cleric leaves jail, blasts US
A radical Indonesian cleric blamed for the 2002 Bali bombings attacks walked free from prison yesterday, and quickly accused the US of state terrorism.
Islamic cleric Abu Bakar Bashir, 68, was given a hero's welcome by around 150 cheering supporters after finishing a 26-month sentence for conspiracy in the Bali nightclub bombings that killed 202 people, mostly young foreign tourists.
The preacher immediately set off for the boarding school he founded in central Java province, which is notorious for spawning many of Indonesia's deadliest terrorists.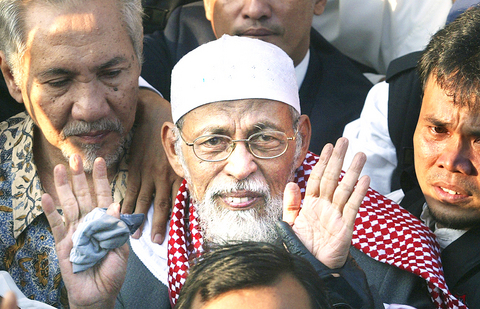 Muslim cleric Abu Bakar Bashir waves to supporters thronging around him as he walks out of Cipinang prison yesterday in Jakarta, Indonesia.
PHOTO: AP
"The United States is a state terrorist because it is waging war against Muslims in Iraq and Afghanistan," he told reporters when asked about US accusations he was a key member of Southeast Asia's Jemaah Islamiyah terror group.
Bashir made the remarks after he stopped for midday prayers in the town of Tegal east of Jakarta. They show he lost none of his trademark anti-US rhetoric during his time in jail.
Earlier, he called for "all Muslims to unite behind one goal" and implement Islamic Sharia law across the world.
The US and Australia, which also believes Bashir is a key member of Jemaah Islamiyah, said they were disappointed at his release, as did Australian victims of the Bali blasts.
"I think the Indonesian government need to have a good look at themselves," said Peter Hughes, 46, by telephone from the western Australian city of Perth. "This guy is going to cause a lot of trouble."
Hughes survived the blasts with burns over 56 percent of his body and shrapnel wounds.
Jemaah Islamiyah is accused of carrying out church bombings across Indonesia in 2000, the 2002 Bali bombings, attacks in the Indonesian capital in 2003 and 2004, and a triple suicide bombing on Bali last October. The attacks together killed more than 260 people.
Comments will be moderated. Keep comments relevant to the article. Remarks containing abusive and obscene language, personal attacks of any kind or promotion will be removed and the user banned. Final decision will be at the discretion of the Taipei Times.