Chao Chien-ming quits the DPP to `protect its image'
President Chen Shui-bian's (陳水扁) son-in-law Chao Chien-ming (趙建銘) yesterday announced that he would cancel his Democratic Progressive Party (DPP) membership amid allegations of insider trading.
He said the move was intended to protect the party's image. However, many DPP lawmakers said it had come too late.
As the scandal continued, the DPP caucus strongly urged Chao to leave the party yesterday morning in order to avoid tarnishing the party's image.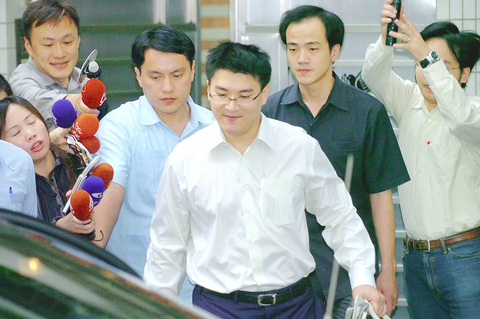 President Chen Shui-bian's son-in-law Chao Chien-ming, center, leaves his Taipei home yesterday without talking to reporters who were asking him whether he had been expelled from the Democratic Progressive Party or had withdrawn his membership.
PHOTO: CHIEN JUNG-FONG, TAIPEI TIMES
"It is too late for the Chao family to donate their profits or apologize for the scandal. We hope Chao and his father Chao Yu-chu (趙玉柱) can explain the whole matter as soon as possible. Why did they buy those stocks? How did they make money? Who gave them that money?" DPP caucus whip Chen Chin-jun (陳景峻) said.
Chen Chin-jun added that the DPP should organize a committee to investigate Chao Chien-ming and cancel his membership.
A few hours later, Chao faxed a statement to the DPP's Taipei City chapter saying that he had canceled his party membership.
In his statement, Chao said the controversies over his family's investments had entered into judicial process. He said he and his family would face the matter openly and cooperate fully with the investigation.
"Before the investigation has even been completed, I am willing to face my responsibilities and withdraw from the DPP of my own accord," Chao said.
Chao joined the party in 2002. Chen Shui-bian, who was the DPP chairman of the time, presided over the swearing-in ceremony.
Meanwhile, DPP caucus whip Yeh Yi-jin (葉宜津), who has talked with Chen's family, said that Chen Hsing-yu (陳幸妤), the president's daughter and Chao's wife, was furious about the incident -- as was first lady Wu Shu-jen (吳淑珍).
Yeh said that none of the president's family members had any idea that Chao had met with Taiwan Development Corp (TDC) chairman Su Teh-jien (蘇德建) before the scandal was exposed and that they were upset about the situation.
"The president and first lady admonished Dr Chao and told him that he should not and cannot do such things," Yeh said. "Now I am quite worried about Chen Hsing-yu, because she is going to give birth next month and I know she has been quite depressed since the incident was disclosed."
The Chinese Nationalist Party (KMT) caucus urged prosecutors and the investigation bureau to subpoena the Chaos in order to get to the bottom of the matter as soon as possible. KMT legislators praised the DPP for issuing a statement criticizing the Chaos on Wednesday, but expressed doubt that the president was not involved in the matter.
"I don't think too many people believe that the president had no idea of what his son-in-law was up to," KMT Legislator Lee Ching-hua (李慶華) said.
The KMT caucus also demanded that Premier Su Tseng-chang (蘇貞昌) relieve the TDC chairman -- who has been accused by KMT Legislator Chiu-yu (邱毅) of leaking inside information to Chao -- of his duties.
Comments will be moderated. Keep comments relevant to the article. Remarks containing abusive and obscene language, personal attacks of any kind or promotion will be removed and the user banned. Final decision will be at the discretion of the Taipei Times.