Shiites, Sunnis pray for peace as Iraq extends curfew
BLOODSHED An extraordinary daytime curfew was in force yesterday as security forces tried to keep a lid on the violence sparked by Wednesday's shrine bombing
Religious leaders summoned Iraq's Shiites and Sunnis to joint prayer services yesterday amid an extraordinary daytime curfew aimed at halting a wave of sectarian violence that has killed nearly 130 people since the bombing of one of Shiite Islam's holiest shrines.
Police and soldiers blocked major roads and surrounded Baghdad's two main Sunni mosques as streets throughout this city of nearly 7 million people emptied of people and traffic.
The nation stood on the brink of civil war and the US strategy in Iraq faced its gravest test since the 2003 invasion.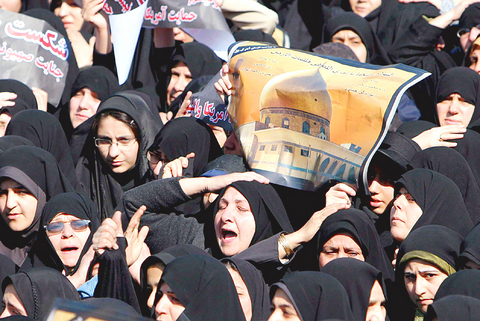 Iranian Shiite women attend a demonstration yesterday in Tehran to protest against the bombings that destroyed the shrine of Imam Ali al-Mahdi and Hassan al-Askari in Samarra, Iraq. The demonstrators accused the US and British forces in Iraq of pushing Shiite and Sunni Muslims into a civil war.
PHOTO: EPA
Residents in Samarra, where the shrine bombing took place on Wednesday, were instructed over loudspeakers to stay indoors "until further notice."
Many planned to attend a joint Shiite-Sunni prayer service at the Askariya shrine, whose famed golden dome was reduced to a pile of rubble.
In the southern Shiite heartland, more than 10,000 people converged on Basra's al-Adillah mosque, where a representative of Iraq's top Shiite cleric, Grand Ayatollah Ali al-Sistani, called another joint service with Sunnis.
The extraordinary measures helped curb -- but not eliminate -- the violence.
In Basra, where the curfew was not in effect, gunmen yesterday kidnapped three children of a Shiite legislator.
The son and two daughters of Qasim Attiyah al-Jbouri -- aged between 7 and 11 years -- were abducted by several armed men near the family home, police said.
Al-Jbouri is a member of the Islamic Dawa Party-Iraq Organization and is the former head of Basra's provincial council.
Elsewhere, police found the bodies of two bodyguards for the Basra head of the Sunni Endowment, a government body that cares for Sunni mosques and shrines. They had been shot.
Late on Thursday, Iraqi state television announced an extension of the nighttime curfew until 4pm yesterday in Baghdad and the nearby provinces of Diyala, Babil and Salaheddin, where the shrine bombing took place.
But there was little sign of the curfew in Baghdad's teaming Shiite slum, Sadr City, where armed militiamen loyal to radical Shiite cleric Muqtada al-Sadr have been out in force since Wednesday's attack. Iraqi police found six bodies handcuffed and shot near a parking lot in the area, the Interior Ministry said.
South of the capital, in the religiously mixed area known as the "Triangle of Death," gunmen burst into a Shiite home in Latifiyah, separated men from women, and killed five of the males, police Captain Ibrahim Abdullah said.
In the northern town of Birtilla, which is not covered by the curfew, 500 Iraqi Shiites marched to demand the execution of ousted Iraqi president Saddam Hussein and death to Sunni fanatics.
The curfew was aimed at preventing people from attending the week's most important Muslim prayer service, which officials feared could be both a target for attacks and a venue for stirring sectarian feelings.
Such sweeping daytime restrictions indicated the depth of fear within the government that the crisis could touch off a Sunni-Shiite civil war.
"This is the first time that I have heard politicians say they are worried about the outbreak of civil war," Kurdish elder statesman Mahmoud Othman told reporters.
US President George W. Bush said he appreciated the appeals for calm and called the destruction of Askariya's golden dome "an evil act" aimed at creating strife.
Comments will be moderated. Keep comments relevant to the article. Remarks containing abusive and obscene language, personal attacks of any kind or promotion will be removed and the user banned. Final decision will be at the discretion of the Taipei Times.