Deal reached on holiday charters
Taiwan and China have hammered out a broad agreement on cross-strait Lunar New Year flights, officials from both countries announced yesterday.
Taiwanese residents with the proper documents to enter and exit from both sides of the Taiwan Strait are eligible to travel via charter flights from Jan. 20 through Feb. 13, government officials said.
Compared to previous cross-strait charter flight agreements, the scheme for next year is much broader, with governments on both sides agreeing to relax the restrictions on passengers and increase the number of flights and destinations in China, Mainland Affairs Council Vice Chairman Johnnason Liu (劉德勳) said.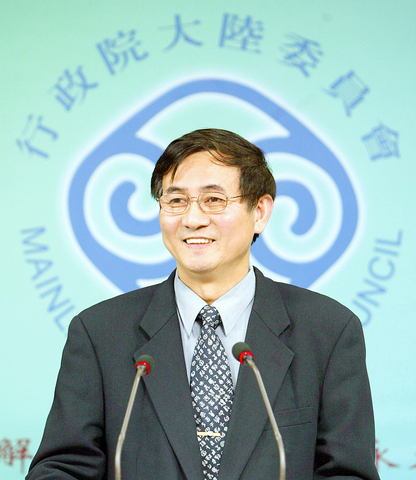 Mainland Affairs Council Vice Chairman Johnnason Liu yesterday announces that Taipei and Beijing have come to terms on cross-strait charter flights for Taiwanese during the Chinese New Year holiday.
PHOTO: CNA
China's Taiwan Affairs Office, the council's counterpart in Beijing, also held a press conference making the deal public.
Originally, Lunar New Year charter flights, which first took place in 2003, were aimed at facilitating the reunion of Taiwanese businesspeople and their families in China with friends and relatives in Taiwan during the holiday period.
However, in this year's deal, the two governments decided to cancel limitations on who could travel across the Strait.
"Residents in Taiwan can use the charter-flight services, including Taiwanese people who want to travel to China and Chinese spouses living in Taiwan, as long as they have the correct documents to enter and exit the two countries," Liu said.
Liu said that the change is in response to people's demands.
Regarding the destination airports, besides Shanghai, Beijing, and Guangzhou, which were used last year, Liu said that Xiamen, where many Taiwanese businesses are located, will be another destination allowed this year.
The number of flights will increase from 48 last year to 72 during the 25-day period, with six Taiwanese and six Chinese airlines participating in the service.
Despite expanding the scope of destinations and the type of passengers who can use the charter flights, the routes and the destinations in Taiwan will remain the same as this year.
The charters are scheduled to run through the existing routes between CKS International Airport and Kaohsiung International Airport, via Hong Kong and to four destinations in China.
"We had suggested new routes -- via Jeju Island and Okinawa -- in a bid to shorten the route via Hong Kong during the negotiations, but the suggestion was not approved by the other side," Liu said.
Liu refused to reveal any details about the negotiation process, insisting that both sides have a tacit understanding that only the results of the negotiations are disclosed.
Comments will be moderated. Keep comments relevant to the article. Remarks containing abusive and obscene language, personal attacks of any kind or promotion will be removed and the user banned. Final decision will be at the discretion of the Taipei Times.