Desperation, anger grow amid chaos
INADEQUATE RESPONSE The New Orleans mayor said federal officials were clueless, while the state's governor warned looters that guardsmen had shoot-to-kill orders
An explosion jolted New Orleans residents awake early yesterday, illuminating the pre-dawn sky with red and orange flames over a hurricane-ravaged city where corpses rotted along flooded sidewalks and bands of armed thugs thwarted fitful rescue efforts.
Congress was rushing through a US$10.5 billion aid package, the Pentagon promised 1,400 National Guardsmen a day to stop the looting and President George W. Bush planned to visit the region yesterday. But city officials were seething with anger about what they called a slow federal response following Hurricane Katrina.
"They don't have a clue what's going on down there," Mayor Ray Nagin told WWL-AM on Thursday night.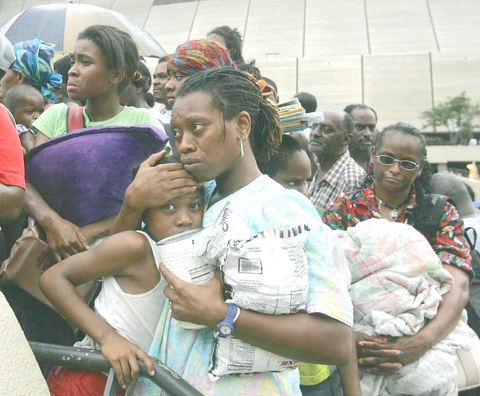 Cavel Fisher Clay, 33, is seen with her children, Dejon Fisher, 8, and Alexis Fisher, 14, as they wait in line to get onto buses to the Houston Astrodome, in New Orleans.
PHOTO: AP
"They flew down here one time two days after the doggone event was over with TV cameras, AP reporters, all kind of goddamn -- excuse my French everybody in America, but I am pissed," he said.
Around 4:30am yesterday an explosion rocked a chemical storage facility near the Mississippi River east of the French Quarter, said Lieutenant Michael Francis of the Harbor Police.
A series of smaller blasts followed and then acrid, black smoke that could be seen even in the dark. The vibrations were felt all the way downtown.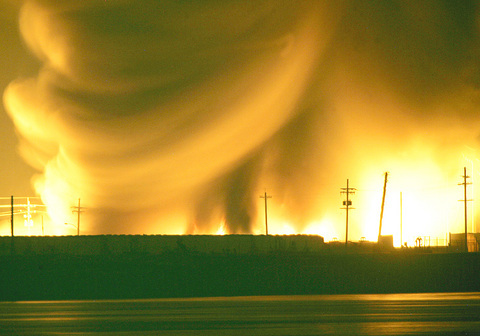 A fire burns on the east side of New Orleans early yesterday morning. Firefighters say they will let the fire burn itself out.
PHOTO: AP
Francis did not have any other information about the explosions and did not know if there were any casualties.
It was the opening strike in yet another day of sadly deteriorating conditions since Katrina slammed ashore on Monday.
Thursday saw thousands being evacuated by bus to Houston from the hot and stinking Superdome. Fistfights and fires erupted amid a seething sea of tense, suffering people who waited in long lines to board buses. The looting continued.
Governor Kathleen Blanco called the looters "hoodlums" and issued a warning to lawbreakers: Hundreds of National Guard troops hardened on the battlefields of Iraq have landed in New Orleans.
"They have M-16s and they're locked and loaded," she said. "These troops know how to shoot and kill, and they are more than willing to do so, and I expect they will."
About 15,000 to 20,000 people who had taken shelter at New Orleans Convention Center grew ever more hostile after waiting for buses for days amid the filth and the dead.
Police Chief Eddie Compass said there was such a crush around a squad of 88 officers that they retreated when they went in to check out reports of assaults.
"We have individuals who are getting raped, we have individuals who are getting beaten," Compass said. "Tourists are walking in that direction and they are getting preyed upon."
By late Thursday, the flow of refugees to the Houston Astrodome was temporarily halted with a population of 11,325, less than half the estimated 23,000 people expected.
While floodwaters in New Orleans appeared to stabilize, efforts continued to plug three breaches that had opened up in the levee system that was designed to protect this below-sea-level city.
"There's a lot of very sick people -- elderly ones, infirm ones -- who can't stand this heat, and there's a lot of children who don't have water and basic necessities to survive on," said Daniel Edwards, 47, outside the convention center.
"We need to eat, or drink water at the very least," he said.
An old man in a chaise lounge lay dead in a grassy median as hungry babies wailed around him. Around the corner, an elderly woman lay dead in her wheelchair, covered up by a blanket, and another body lay beside her wrapped in a sheet.
"I don't treat my dog like that," Edwards said as he pointed at the woman in the wheelchair. "You can do everything for other countries, but you can't do nothing for your own people."
Federal Emergency Managment Agency Director Michael Brown said the agency just learned about the situation at the convention center on Thursday and quickly scrambled to provide food, water and medical care and remove the corpses.
The slow response frustrated Nagin: "I have no idea what they're doing but I will tell you this: God is looking down on all this and if they're not doing everything in their power to save people, they are going to pay the price because every day that we delay, people are dying and they're dying by the hundreds."
Hospitals struggled to evacuate critically ill patients who were dying for lack of oxygen, insulin or intravenous fluids.
But when some hospitals try to airlift patients, Coast Guard Lieutenant Commander Cheri Ben-Iesan said, "there are people just taking potshots at police and at helicopters, telling them, `You better come get my family."'
Mississippi's confirmed death toll from Katrina rose to 126 on Thursday.
Comments will be moderated. Keep comments relevant to the article. Remarks containing abusive and obscene language, personal attacks of any kind or promotion will be removed and the user banned. Final decision will be at the discretion of the Taipei Times.