Chen downplays China fruit market
BAD DEAL The president noted that the nation's mangoes fetch only US$0.70 per kilogram in China, compared to US$4 in Japan, at the opening of a Tainan facility
President Chen Shui-bian (陳水扁) said yesterday that the nation's fruit should not be dumped into the China market at a low price, and noted that agreements between Beijing and Taiwanese groups are not valid without the government's authorization.
Chen made the remarks yesterday in an inauguration ceremony of a steam fruit-disinfecting facility held in Tainan County's Yujing Township (玉井), in response to the recent news that a delegation from the Taiwan Provincial Farmers' Association has reached a consensus with the Beijing-based Association for Economic and Trade Exchange Across the Taiwan Strait on the issue of Taiwan's fruit exports.
Tainan's Yujing Township is nicknamed the "home of mangoes" and is noted for its high-quality fruit.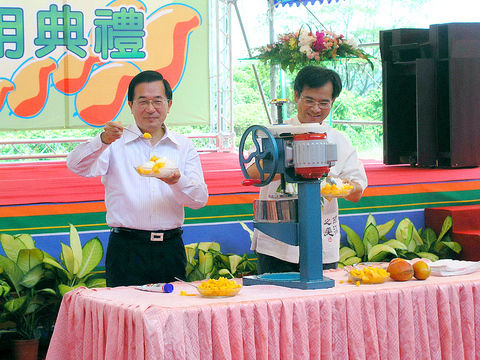 President Chen Shui-bian, left, tastes mango freeze while Tainan County Commissioner Su Huan-chih, right, prepares shaved ice with fresh mango at an event to promote the fruit in Tainan County.
PHOTO: LIN MENG-TING, TAIPEI TIMES
In his speech, Chen called on fruit farmers to have confidence in Taiwan's fruit, pointing out that the qualify of Taiwan's mangoes are so good that they can fetch US$4 per kilogram in Japan, far more than their selling price of just US$0.70 per kilogram in China.
"In fact, Japan accounts for 44 percent of our mango exports, Singapore account for 15.1 percent and China only account for less than one percent," Chen said. "Therefore, it does not make any sense to say that only by selling fruit to China can Taiwan's farmers survive," Chen said. "Everyone should be confident in our produce. Now that we can market our fruit to Japan at a good price, we should not sell them to China at such a cheap price."
Chen also called on farmers to have faith in the Taiwan External Trade Development Council (TAITRA), the major trade organization in charge of exports, including those to China.
Chen said that he already made a clear declaration about Taiwan's produce for export on June 15, while attending an inauguration of Taiwan's papaya exports to Japan.
"I've designated TAITRA to serve as the organization for managing the export of Taiwan's produce, and our local farmers' associations are in charge of coordinating produce supplies," Chen said. "TAITRA is responsible for marketing of Taiwan's produce to the world."
Chen praised TAITRA's experience in international trade and businesses negotiation and said it is perfectly capable of marketing Taiwan's produce worldwide, just as it has marketed Taiwan's computers -- which accounts for most of the world's manufacturing market share.
"I believe that the TAITRA can also attain the goal of `good service, good price and good profit,'" Chen added.
Chen clearly noted that only the government has the power to oversee negotiations on Taiwan's fruit trade.
"Any negotiations about Taiwan's produce exports that involve governmental authority such as custom duties, quarantines, customs clearance and inspections have to be authorized by the government, with TAITRA's assistance," Chen said.
"An agreement is not official if individuals or groups talk privately with China, no matter what conclusion they reach," Chen said.
The steam fruit-disinfecting facility in Yujing Township was built at a cost of NT$130 million (US$4.1 million) and is the fourth such facility in the nation. It became commercially operational July 1 after receiving certificates issued by Japanese quarantine authorities on June 24. The facility is designed to efficiently eliminate the mango's principal pest, the fruit fly. Built with financial assistance from Japan's Mitsubishi Group, the plant, capable of processing at least 9 tonnes of fruit per day, is expected to help increase exports of mangoes, papayas and other fruit from Tainan County to Japan.
Comments will be moderated. Keep comments relevant to the article. Remarks containing abusive and obscene language, personal attacks of any kind or promotion will be removed and the user banned. Final decision will be at the discretion of the Taipei Times.