Ma Ying-jeou transfers his health chief
THE BUCK STOPS NOWHERE A little girl is in critical condition after being refused treatment across Taipei; in response, Ma put his health chief in charge of a hospital
Amid public anger over a brain-damaged four-year-old girl's late-night rerouting to a Taichung hospital, Taipei Mayor Ma Ying-jeou (馬英九) yesterday said that Chang Heng (張珩), director of the city government's department of health, will leave his post and serve instead as superintendent of the Taipei Municipal United Hospital. \n"It is inconceivable that Taipei, a city enjoying the best medical resources in Taiwan, could refer an abused child who needed emergency treatment to ... Taichung County, more than 100km away," Ma said at a press conference yesterday. \nMa replaced Chang with deputy director Deng Su-wen (鄧素文), who will start work on Feb. 1. \nMa said that he could not blame Chang for the incident. \n"It is not the EOC's [Emergency Operations Center] fault. It is, rather, an issue of hospital discipline and practitioner ethics," Ma said, referring to the Municipal Jenai Hospital which declined to operate on the girl, and neurological surgeon Liu Chi-hwa (劉奇樺), who was absent at the time. \nLater last night, Ma, Chang and two unidentified doctors went to the Tung General Hospital in Tai-chung a day earlier than promised to visit the girl, surnamed Chiu. He said he felt sorry and sad for Chiu, who is in a coma. \n"I believe there's something wrong with our medical system and we really feel sorry about the whole incident," Ma said. \nMa again stressed that Chang's removal was only an "adjustment" and not a punishment. \nDuring his time as Taipei mayor, Ma has preferred to retain bureaucrats whose performance has received considerable criticism. \nEarlier, the director-general of the Executive Yuan's Department of Health, Chen Chien-jen (陳建仁), told a Legislative Yuan committee that, "There are certainly enough beds in Taipei for an emergency case like this. It is a question of a doctor's professional judgment and hospital management. It is not an example of lack of communication at the EOC." \nThe Municipal Jenai Hospital, the first hospital to reject Chiu on Monday night, yesterday admitted it mishandled the affair and censured two surgeons yesterday. \nHospital president Wu Chen-lung (吳振龍) said night-duty surgeon Liu Chi-hwa and his colleague Lin Chih-nan (林致南) should have come to the emergency room to examine Chiu within half an hour. \nLin, who was also in the intensive care unit at the time, saw Chiu's brain X-ray, then called Liu, who was away from the hospital, saying she needed immediate surgery. \nBut both surgeons failed to go to the emergency room to help her. \n"It is the doctors' responsibility to look after their patients. They failed their patient. They were in the wrong," Chang said. \nAs for the hospital's emergency section chief, Lin Kung-bin (李坤彬), who decided to transfer the patient after the surgeons failed to arrive, no penalty has been imposed. \nThe Cabinet's Department of Health said that the EOC is a well-established and properly functioning system. \n"More than 200 hospitals nationwide are registered with the EOC and update information on the number of available beds every hour. [Taipei's] health personnel should improve their reporting procedures and get the message right," Chen said. \nThe EOC called 13 hospitals in Taipei that night in an anxious search for an intensive care bed and a qualified neurosurgeon, according to official communication records. \nAccording to data released by the Cabinet's Department of Health yesterday, one bed was available for neurosurgery, 56 beds for newborns and 20 beds for general patients in the 13 hospitals contacted by 3am on Tuesday. \nYet no hospital had reported these vacancies to the EOC. \nMeanwhile, the Taipei District Prosecutors' Office yesterday said that it had begun an investigation to see whether charges should be laid over the matter. \n"The way [the medical personnel at Jenai Hospital] handled the case was strange indeed," spokesman Lin Bang-liang (林邦樑) said. "We are trying to work out what took place and what went wrong." \nLin said that if prosecutors discovered sufficient evidence of medical personnel mistreating the patient during her transfer, resulting in permanent mental or physical damage, they would be charged with negligence and face a jail term.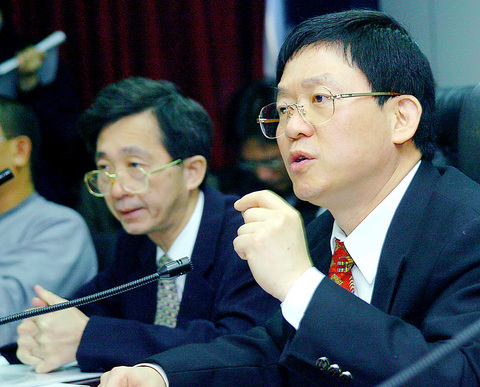 Sacked director of the Taipei City Government's department of health, Chang Heng, right, and Jenai Hospital superintendent Wu Chen-long discuss the incident on Monday in which an infant girl was refused admission to Taipei hospitals.
PHOTO: FANG PING-CHAO, TAIPEI TIMES
Comments will be moderated. Keep comments relevant to the article. Remarks containing abusive and obscene language, personal attacks of any kind or promotion will be removed and the user banned. Final decision will be at the discretion of the Taipei Times.