John Kerry accepts nomination
`SHARP CONTRAST' The candidate promised a contest of 'big ideas' and immediate reform amid an exuberant crowd of flag-waving supporters
Saying "America can do better," Senator John Kerry took the reins of the Democratic Party on Thursday with a promise to restore US global leadership and ask "hard questions" before taking the country to war.
"We need to be looked up to and not just feared," Kerry said in accepting the Democratic nomination to face President George W. Bush. "In these dangerous days there is a right way and a wrong way to be strong."
In a prime-time, televised address that gave Kerry a national stage to introduce himself and lay out his case for the presidency, he vowed to bridge the US' cultural and economic divides and make the Nov. 2 election "a contest of big ideas."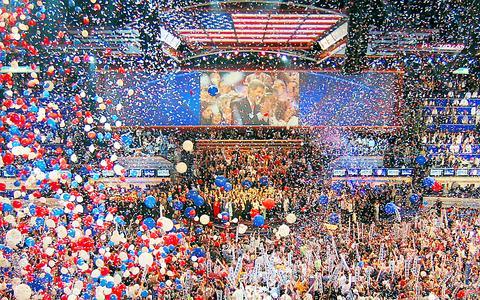 A view of the Democratic National Convention at the FleetCenter in Boston as balloons cover the delegates after Democratic presidential nominee Senator John Kerry delivered his acceptance speech yesterday. Kerry will face US President George W. Bush in the November presidential election.
PHOTO: REUTERS
"It is time to reach for the next dream," Kerry told the Democratic National Convention. "It is time to look to the next horizon."
Kerry said he would never hesitate to use force "when it is required," but drew a sharp contrast with Bush's decision to go to war in Iraq based on faulty intelligence about the threat of weapons of mass destruction.
"Saying there are weapons of mass destruction in Iraq doesn't make it so. Saying we can fight a war on the cheap doesn't make it so. And proclaiming mission accomplished certainly doesn't make it so," Kerry said. "As president, I will ask hard questions and demand hard evidence. I will immediately reform the intelligence system, so policy is guided by facts, and facts are never distorted by politics."
Directly addressing Bush, he challenged the president to build unity in the US, not foster angry division, and join him in being "optimists, not just opponents."
Kerry's speech concluded the four-day convention and kicked off a three-month election battle with Bush, who ceded the spotlight to Democrats all week while vacationing at his ranch in Texas. Polls show the two locked in a dead heat ahead of next month's Republican convention in New York.
Kerry entered the convention site through the massed delegates and climbed to the stage to join his waiting Navy crewmates.
"I'm John Kerry and I'm reporting for duty," he said, saluting the crowd as he began his speech. He was joined on stage afterward by running mate John Edwards and their wives and families.
With the refrain "America can do better, help is on the way," Kerry promised to improve the quality of life for everyday Americans. The speech framed many of the issues Kerry will stress in the campaign, including the war in Iraq, the economy, healthcare and the war on terror.
"I defended this country as a young man and I will defend it as president. Let there be no mistake -- I will never hesitate to use force when it is required," Kerry said. "Any attack will be met with a swift and certain response."
As president, he would fight a "smarter, more effective war on terror," bolster the military and lead a global effort against nuclear proliferation.
"I will be a commander-in-chief who will never mislead us into war," Kerry said.
Kerry renewed his calls for the quick adoption of the recommendations of the panel that studied the Sept. 11, 2001, attacks, which Bush says need to be studied.
"As president I will not evade or equivocate," he said, promising fast action in the war on terror and a strong military that will send the message to terrorists that "you will lose and we will win."
Kerry, who launched a long autobiography early in his speech, offered no new solutions to end the war in Iraq but said the best way to bring US troops home was to restore the nation's credibility around the world.
Comments will be moderated. Keep comments relevant to the article. Remarks containing abusive and obscene language, personal attacks of any kind or promotion will be removed and the user banned. Final decision will be at the discretion of the Taipei Times.