US seizes uranium from nuclear center in Iraq
US officials have seized about 1,000 sources of radioactivity and nearly two tonnes of low-enriched uranium from an Iraqi nuclear center, and shipped the material to an undisclosed location in the US, the Energy Department announced on Tuesday.
None of the materials were usable in a nuclear bomb, but the uranium could have been further enriched to make it useful in a weapon, said Bryan Wilkes, a spokesman for the National Nuclear Security Administration, part of the Energy Department.
He also said the radioactive sources could have been mixed with conventional explosives to make a "dirty bomb."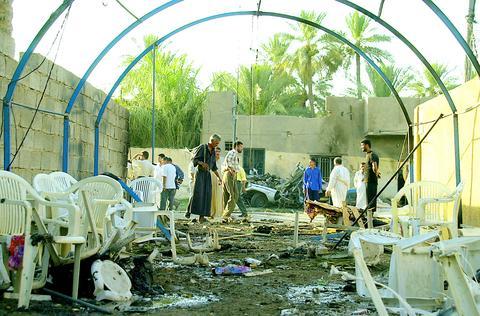 Iraqis look through the scene of a car bombing in Khalis, Iraq, on Tuesday. Thirteen people were killed while attending a wake for the victims of a previous attack, hospital officials said.
PHOTO: AP
The Defense Department airlifted the material to the US on June 23, the announcement said.
The material came from Tuwaitha, an important location in Saddam Hussein's nuclear weapons development program until it was largely shut down after the Persian Gulf war of 1991. The site was looted by villagers soon after the US invasion of Iraq last year.
Tuwaitha reportedly has hundreds of tonnes of uranium. The Energy Department said on Tuesday that it had "repackaged" some materials at the site that were "less sensitive," and left them there.
The radioactive sources included "a huge range of all types," including isotopes of the elements cobalt, cesium and strontium, Wilkes said. Such sources are commonly used to provide radiation for cancer treatments, or for industrial X-rays, he said. They can also be used to sterilize medical equipment or kill bacteria in food.
The department did not give any details, but such sources can be quite small and, before dispersal, can give off large amounts of radiation. The sources were consolidated at Tuwaitha from around Iraq by the Defense Department and the Iraqi Ministry of Science and Technology, according to the Energy Department.
Some of the sources were in powdered form, which would make them easy to use in a dirty bomb, Wilkes said.
A dirty bomb or, more formally, a radiological dispersion device, is not likely to give off lethal doses of radiation, according to experts, but could contaminate valuable real estate with low levels of contamination in a way that would require an expensive cleanup or simply make an area unusable.
The Energy Department said that it had left behind radiological sources "that continue to serve useful medical, agricultural or industrial purposes," and that the action had been taken "to ensure the safety and security of the Iraqi people."
Also see story:
Comments will be moderated. Keep comments relevant to the article. Remarks containing abusive and obscene language, personal attacks of any kind or promotion will be removed and the user banned. Final decision will be at the discretion of the Taipei Times.