Tape of Osama's No. 2 urges Pakistan coup
`THE TRAITOR' Al Jazeera television aired a message apparently from Osama bin Laden's right-hand man urging Pakistanis to get rid of President Pervez Musharraf
A defiant message apparently from Osama bin Laden's right-hand man called on Pakistanis on Thursday to overthrow their pro-US president -- just days after Pakistan hinted its forces had the fugitive trapped.
In a new tape aired on al-Jazeera television and attributed to Ayman al-Zawahri, the al-Qaeda No. 2 -- believed hiding on the Afghanistan-Pakistan border -- called President Pervez Musharraf "the traitor."
"I call on Muslims in Pakistan to get rid of their government, which is working for Americans," said the voice on the audio-only tape, which sounded like Zawahri.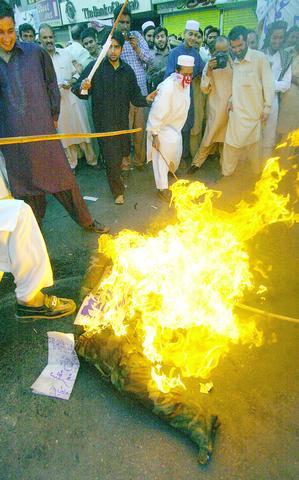 Pakistani activists of Mutahida Majlis-e-Amal, a six-party Islamic alliance, beat an effigy of President Pervez Musharraf during an anti-US demonstration in Rawalpindi yesterday.
PHOTO: AFP
Pakistan, a key US ally in the "war on terror," has been waging a bloody campaign over the last fortnight to root out al-Qaeda fighters in tandem with a US sweep on the other side of the Afghan frontier.
Pakistani officials said last week the fierce defense the militants were putting up suggested they were protecting a "high-value target," perhaps Zawahri, who Washington believes played a key role in the Sept. 11, 2001, attacks.
Musharraf, who has to balance pressure from Washington with anti-US sentiment at home, narrowly escaped two assassination attempts in December blamed on Muslim militants.
The CIA, which said two similar messages last month were probably from Zawahri, was checking the tape's authenticity.
"Musharraf wants to stab the Muslim jihad [holy struggle] uprising in Afghanistan in the back," the voice said.
"The Pakistani people had offered a helping hand to their brothers in Afghanistan, that's why Americans delegated Musharraf to take revenge on the tribes along the border, especially the Pashtun."
Al-Jazeera, which often receives tapes purportedly from bin Laden and Zawahri, said it got the new message after Pakistan began its frontier military campaign but gave no more details. No specific events to help date the tape were mentioned on it.
Islamabad has faced strong opposition demands to stop the offensive in the lawless South Waziristan tribal region by some 5,000 troops, but says it will go on until all militants are eliminated. Scores of people have been killed.
"Pakistan is targeted mainly because Americans don't want it to be a nuclear power in Asia because it is Muslim," the tape's speaker said.
He said Musharraf wanted to "strangle the jihad in Kashmir" -- the majority Muslim state disputed between India and Pakistan -- by gradually abandoning the right of Kashmiri independence.
He called on Pashtun tribes to protect the Taliban, Afghanistan's Islamist rulers toppled in 2001, and al-Qaeda fighters from US and Pakistani forces hunting them.
"Oh, you proud, strong tribes, your brothers of the Taliban and their allies are guests in your homes, so how can you allow allow the [Pakistani] agent of the crusaders and Jews to harm them?" he said.
The tape also tried to incite the Pakistani army against Musharraf, saying he planned to rid them of nuclear arms and leave them prey to Indian enemies on the border.
Comments will be moderated. Keep comments relevant to the article. Remarks containing abusive and obscene language, personal attacks of any kind or promotion will be removed and the user banned. Final decision will be at the discretion of the Taipei Times.