Bush on a roll as Iraq deaths mount
Two US soldiers and an Iraqi interpreter were killed in Baghdad, but US President George W. Bush's bid for re-election next year won an opinion poll boost from the capture of Saddam Hussein.
The ABC News/Washington Post poll showed 60 percent of Americans backed Bush's handling of Iraq, compared to 48 percent in mid-November -- before Saddam's arrest on Dec. 13.
Bush, battling to stamp out attacks on US-led forces that have killed more than 200 American soldiers since he declared major combat over on May 1, held talks in Washington with Iraq's US governor Paul Bremer and Defense Secretary Donald Rumsfeld.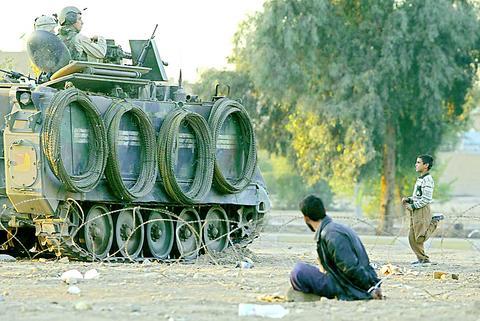 An arrested Iraqi man is seated handcuffed on the ground in front of a US armored vehicle while an Iraqi boy plays nearby in Baghdad, Monday.
PHOTO: AFP
The US military said a former general in Saddam's once-feared security services had been captured as US-led forces stepped up a crackdown on guerrillas in the wake of the toppled Iraqi leader's capture.
Iraq's Oil Minister Ibrahim Bahr al-Uloum said the country was steadily raising output, attracting foreign investment interest and hoped to restart its much sabotaged northern export pipeline by the end of March.
"Sabotage is the challenge facing the Iraqi oil industry. Our [people] have the experience and capacity to overcome it," Uloum said in an interview.
"We [have] managed to raise exports ... We were faced with 85 sabotage attacks in the last four months," he said.
Uloum said restarting the pipeline to Turkey's Mediterranean coast was part of a plan to raise exports to 2 million barrels per day (bpd) in the first quarter of next year compared with 1.6 million bpd now through the south. The northern pipeline carried 800,000 bpd before the US-led invasion in March that ousted Saddam.
An energy crisis has gripped Iraq because of the sabotage attacks and a flourishing black market, but Uloum said shortages would ease soon due to deals with Iran and Syria to exchange oil products for crude oil.
The White House said Bush's special envoy James Baker would travel to Asia next week to meet the leaders of Japan, South Korea and China to join an international drive to reduce Iraq's estimated US$120 billion in foreign debt.
The two US soldiers and the Iraqi interpreter were killed when a roadside bomb blast ripped through a military convoy in Baghdad on Monday, the US military said in a statement.
Comments will be moderated. Keep comments relevant to the article. Remarks containing abusive and obscene language, personal attacks of any kind or promotion will be removed and the user banned. Final decision will be at the discretion of the Taipei Times.