Falun Gong to sue Jiang
Seven Taiwanese Falun Gong members will file a genocide lawsuit tomorrow against former Chinese president Jiang Zemin (江澤民).
The members, who all claim to have been abused by Chinese authorities during visits to China will also file a similar suit against former Chinese vice premier Li Lanqing (李嵐清) and Chinese Communist Party Politburo member Luo Gan (羅幹).
The group said yesterday that Jiang, Li and Luo had attempted to systematically extinguish Falun Gong by using politics and the military to persecute its members.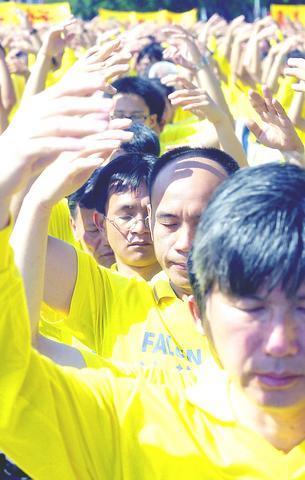 Thousands of Falun Gong practitioners in Taiwan stage a protest against former Chinese president Jiang Zemin and other Chinese officials in front of the Presidential Office in downtown Taipei yesterday morning.
PHOTO: SEAN CHAO, TAIPEI TIMES
Theresa Chu (朱婉琪), a Taiwanese lawyer who is a member of the New York State bar and also a Falun Gong practitioner, said that the group was making its case based on a Taiwanese law against genocide. She said that it would be the first time this law had been used since it was passed in 1953.
When asked about the issue of jurisdiction, Chu said that the group was confident that there would be no problem.
"First of all, according to the Constitution, China is still considered a part of the ROC, so anyone who breaks the law in China can still be punished by the ROC's laws," Chu said.
"Secondly, according to international customs, a major crime that breaks international criminal laws, such as genocide, fits the principle of universal jurisdiction -- that is, anyone can file a suit against this kind of crime in any country."
The group of seven includes Lin Hsiao-kai (林曉凱), the Falun Gong member who was detained in Shanghai for 10 days by the national security bureau last month.
Another plaintiff, Chan Pei-chun (詹佩君) said that she was detained for three days when she went to visit some relatives in China during Chinese New Year last year.
"If we do not speak up in a free country like Taiwan, then the practitioners in China would have no chance to let their voices be heard," Chan said.
Comments will be moderated. Keep comments relevant to the article. Remarks containing abusive and obscene language, personal attacks of any kind or promotion will be removed and the user banned. Final decision will be at the discretion of the Taipei Times.