Wildfires swallow up California communities
Wildfires fed by hot Santa Ana winds flared into gigantic waves of flame that devoured entire neighborhoods, choked skies over Southern California with ash and killed 13 people in the state's deadliest wildfire tragedy in half a century.
The blazes triggered a harrowing flight to safety Sunday for hundreds of residents, who had little time to collect cherished possessions before escaping.
"I was grabbing wet towels. Fire was at our feet. It was blazing over our heads and burning everywhere," said Lisza Pontes, 43, recounting her Sunday morning escape from a fire in San Diego County.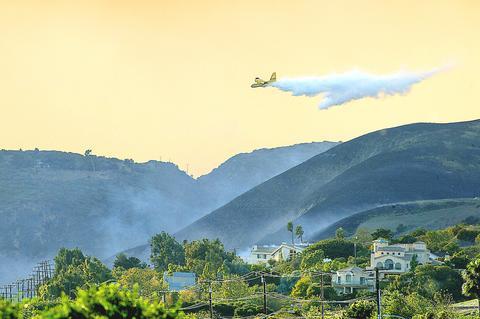 An air tanker drops water on a wildfire a few kilometers north of the Pepperdine University campus in Malibu, California, on Saturday. Hot, dry winds have fueled Southern California wildfires that have destroyed hundreds of homes and forced thousands of residents to evacuate.
PHOTO: AFP
She and her family, awakened at 3:45am, made a mad dash from their home to their car and, as they drove away, saw a neighbor's mobile home explode in flames.
From the Mexican border to the suburbs north of Los Angeles, much of the region was swiftly transformed into a charred wasteland. More than 800 homes have been destroyed. The death toll is the worst since the 1953 Rattlesnake Fire killed 15 firefighters in Mendocino National Forest.
Million-dollar homes evaporated almost as fast as canyon brush in San Diego's affluent Scripps Ranch area, where charred eucalyptus trees blocked the roads.
About 30,000 homes remained in danger from the fires, which had consumed more than 120,000 hectares -- the equivalent of 1,200km. In many parts of the region, the fires kept growing despite the frantic efforts of more than 7,000 firefighters.
A state of emergency was declared in Los Angeles, San Bernardino, San Diego and Ventura counties as the fires closed major highways and roads, and disrupted air travel nationwide.
Nine people were killed by the so-called Cedar Fire, the state's largest blaze at approximately 40,000 hectares. About 260 homes, ranging from modest to expensive, were destroyed.
The victims included two people who died inside their car as they apparently tried to escape the flames.
Among others killed were one person whose body was found in a motor home, and three in other vehicles, county sheriff spokeswoman Susan Knauss said. Three were killed while trying to escape on foot and two were dead on arrival at local hospitals.
The fire was ignited on Saturday near the mountain town of Julian when a lost hunter set off a signal fire, authorities said. The hunter was detained and may face charges.
Another fire near San Diego that started Sunday killed two people and destroyed 57 homes while burning about 6,000 hectares, authorities said. It also prompted evacuations in northeastern Escondido.
Around the congested suburbs of San Bernardino, a city of about 200,000 about 80km east of Los Angeles, one flank of a nearly 32,000-hectare fire burned through four towns while the other flank destroyed more than 450 homes.
Two men collapsed and died, one as he was evacuating his canyon home and the other as he watched his house burn, the county coroner said.
Comments will be moderated. Keep comments relevant to the article. Remarks containing abusive and obscene language, personal attacks of any kind or promotion will be removed and the user banned. Final decision will be at the discretion of the Taipei Times.