TaipeiBank saga keeps on running
Taoyuan County Commissioner Chu Li-lun (朱立倫) said yesterday that, if his county had a profitable "golden goose" such as TaipeiBank, he would have run it professionally on a long-term basis rather than privatizing it as the Taipei City Government has done. \nChu, who just returned from a trip to the US, made the remark in response to reporters' questions about the uproar regarding the merger of TaipeiBank and Fubon Financial Holding Co. \nChu said that it was inevitable for TaipeiBank to be merged into a financial holding company, as this is the trend domestically and internationally. \n"When I served as a legislator, I pushed the passage of the Financial Holding Company Law (金融控股公司法) and I understand it is an irresistible trend," Chu said. \nHe said he had no comment on when and which financial holding company was best for TaipeiBank. \n"It should be answered by financial experts and scholars, and I respected the Taipei City Government's professional judgment," Chu said. \nBut Chu, who is a member of the Chinese Nationalist Party (KMT), emphasized that he opposed such issues being blurred by political quarrels. \n"This merger should be discussed from financial and banking perspectives. I believe the public will definitely sneeze at those who attempt to color this merger with political slander," Chu said. \nAs for Taipei City Government's warning that it was considering suing his deputy, Liao Cheng-ching (廖正井), for his criticism of the merger, Chu said that Liao raised questions about the merger based on his professional judgment, which should be respected. \n"I think there is no question of an apology or legal action," he said, adding that he believed that Taipei Mayor Ma Ying-jeou (馬英九) "has the magnanimity to listen to different advice." \nLiao said on Saturday that it was inappropriate for TaipeiBank to be merged with Fubon because TaipeiBank's total assets were much greater than Fubon's. Liao was president of TaipeiBank for two and a half years. \nThe Taipei City Government said it was considering suing Liao, a threat Liao said he would face with a clear conscience. \n"I've never doubted Ma's integrity in the merger of TaipeiBank and Fubon Financial Holding Co. I simply expressed the opinion based on my professional knowledge, and reflected the voices of my old colleagues and friends in banking circles," Liao said, adding that professionals often judge the suitability of a merger in terms of the companies' total assets. \nTaipei City Government's Bureau of Civil Affairs Director Samuel Wu (吳秀光) said on Sunday that Liao's criticism derived from his rift with the Taipei City Government over the terms of the merger. \nWu said that Liao had suggested merging TaipeiBank with Chung Shing Bank, a proposal that many disagreed with. \nLiao said he was upset about Wu's accusation, which he described as vilification. He denied pushing for the merger of TaipeiBank and Chung Shing Bank. Liao said he was assigned by the Ministry of Finance to "save" Chung Shing Bank by way of merger, and TaipeiBank was one of the possible candidates. \n"But I thought it was inappropriate. Thus I proposed finding 10 high-tech companies to invest in Chung Shing Bank, but this was rejected by the ministry and the case was suspended," said Liao. "All the financial officials can testify for me." \nLiao said he felt sorry that the merger has become a political battle and that he would not comment on it anymore. \nAlso See Story: \n \nEditorial: A good deal for whom?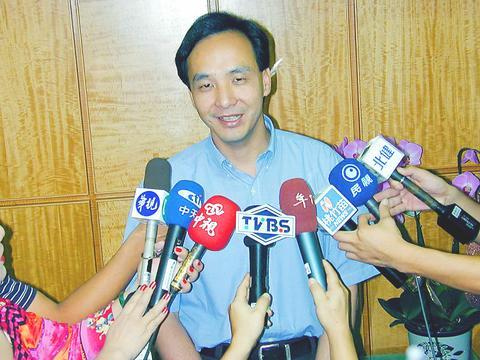 Taoyuan County Commissioner Chu Li-lun comments yesterday on the uproar regarding the merger of TaipeiBank and Fubon Financial Holding Co.
PHOTO: CHEN WEN-CHENG, TAIPEI TIMES
Comments will be moderated. Keep comments relevant to the article. Remarks containing abusive and obscene language, personal attacks of any kind or promotion will be removed and the user banned. Final decision will be at the discretion of the Taipei Times.