Kaohsiung man drives his team to victory in Britain
FULL THROTTLE Kenny Chen's team won the British GT Cup Class Championship and said he wants the concept of Team Taiwan to reach far beyond motor racing
A motor racing team owned by Taiwanese Kenny Chen (陳人德) captured the 2003 British GT Cup Class Championship Sunday after winning nine of the 11 races this season. \nAt the request of Chen, the UK Motor Sports Association invited Tien Hung-mao (田弘茂), Taiwan's representative to the UK, to present the championship trophy and other awards to the winning teams following the final race at the Brands Hatch Circuit, near London. \nBefore presenting the trophy to Chen and his team, Tien read a congratulatory message from President Chen Shui-bian (陳水扁). \nIn the message, the president said the outstanding performance of Chen's team was "a great source of pride for not only your team, but our country as well." \nChen, 29, a native of Kaohsiung, developed an interest in motor sports during his childhood. \nHe formed his team in February and joined the GT Cup Class Championship virtually as a nobody. But he surprised Britain's motor racing circles by defeating more than 20 other teams to win nine races out of 11 in the six-month season that ended last weekend. This was an achievement unprecedented in British motor racing history. \nChen's team, known as GruppeM Tech9, is composed of three Porsche 911 sport cars, six drivers and 12 engineers. \nThe ingredients for his victory, according to Chen, include not only talented drivers whom he hand-picked from more than 100 candidates, but also his top-notch engineers, as well as a little open secret -- that his cars are equipped with a high-performance air induction system exclusively designed by his GruppeM Europe Co. \nThe patented system controls air turbulence at the initial induction stage to encourage accelerated airflow into the engine and therefore improve peak power output. \nWhile Chen started the venture with a view to generating more publicity for his products, he also had something big in his mind -- to promote Taiwan internationally. \nThat is why his team's pit always flies the Republic of China flag, and the rooftops of his race cars and the technician's lorry are branded with the national colors. \nHe is happy that his team is often called "the Taiwan team," and believes that the concept of Team Taiwan will reach far beyond the world of motor racing and into the political and economic arenas. In his view, as a business venture, Team Taiwan holds great potential for investment. \nWith his comfortable victory, Chen has earned the respect and goodwill of the manufacturers of Porsche cars, who have offered to sell him one of the 20 Porsche GT3RSRs to be produced next year. \nArmed with this US$330,000 new car, Chen plans to join the GTO class race next year in the British GT Championship. \nEventually he will move onto the FIA GT Championship with a full GT entry. \nChen said his ambition is for his team to be the first ever to win every race in a season of the GT championship under the name of "Team Taiwan."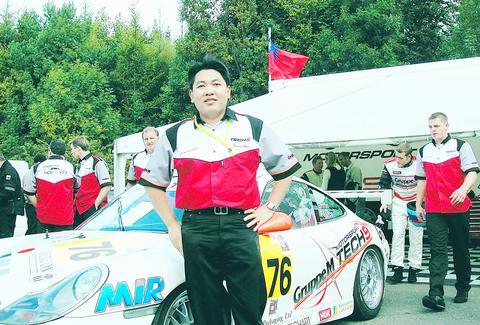 This year's British GT Cup Class Championship winner Kenny Chen poses in front of his sports car. Chen's team, known as GruppeM Tech9, defeated more than 20 other teams to win nine races out of 11 -- an achievement unprecedented in the championship's history.
PHOTO: CNA
Comments will be moderated. Keep comments relevant to the article. Remarks containing abusive and obscene language, personal attacks of any kind or promotion will be removed and the user banned. Final decision will be at the discretion of the Taipei Times.