KMT legislator takes Austria to task over visa rules
KMT Legislator Sun Kuo-hwa (孫國華) lodged a protest yesterday against a number of countries that have signed the Schengen Agreement for requiring financial statements from ROC nationals applying for tourist visas. \nSun said Taiwan's government does not impose such a requirement on nationals from Schengen countries, adding he believes these countries' visa requirements are "unfair and discriminate against Taiwanese tourists." \n"Based on the principles of equality and reciprocity, and for the purpose of promoting people-to-people exchanges, I, as a convener of the legislature's Foreign and Overseas Chinese Affairs Committee, solemnly lodge this protest," Sun said at a press conference. \nBased on reciprocity, Sun urged Schengen countries which impose the requirement on Taiwanese visa applicants to revoke the measure. \nThe Schengen visa is the unified visa system designed to end internal border checkpoints and controls. At present, there are 15 countries in the Schengen zone, all in Europe. \nWith a Schengen visa, visitors may enter one country and travel freely throughout the Schengen zone. \nTaiwan's government grants visitors from Schengen countries visa-exempt stays for up to 30 days. \nSun said he was only aware of the "unfair" visa requirement when he went to apply for a Schengen visa last month to visit Austria for a holiday and to attend festivities with the local Chinese community. \n"I was surprised and confused to receive instructions that a financial statement, including my bank statement and a copy of my credit card, was required for the visa application," Sun said. \n"I find it unfair that people from Taiwan applying for a Schengen visa are required to provide these financial statements when Taiwan grants nationals of these Schengen countries the convenience of a 30-day visa-exempt stay," Sun said. \nOf the seven Schengen countries that require supplementary financial statements from Taiwanese visa applicants, France, Belgium and the Netherlands also require a detailed travel itinerary. \nAlthough not a Schengen country, the UK also requires tourist-visa applicants from Taiwan to supply financial statements with their application. \n"I hope that all visa-issuing agencies operated by Schengen countries will remove these unfair measures against people from Taiwan," Sun said. \nClaiming the practice was an obvious act of discrimination, Sun brought his protest to the Austrian Trade Office following his press conference. \nWerner Posch, deputy director of the tourism office, didn't come out to accept Sun's protest letter. Sun left his letter with office staff to forward to Posch. \nSun said he would also forward the protest letter to other Schengen countries' representative offices in Taiwan. \nAccording to staff at the Austrian Tourism Office, the office had decided on Aug. 7 that Taiwanese no longer needed to supply financial documents with their visa application. \nThe staff, who wished to remain anonymous, declined to comment on why the office lifted the requirement. \nSun also urged the Ministry of Foreign Affairs to work harder in its visa negotiations with other countries. \nIn response to Sun's call, ministry spokesman Richard Shih (石瑞琦) said it has long been the ministry's goal to simplify the visa-application process for Taiwanese wishing to visit other countries. \n"The ministry has been trying," Shih said. "The ultimate goal of the ministry is to gain visa-exempt stays for Taiwanese tourists in other countries."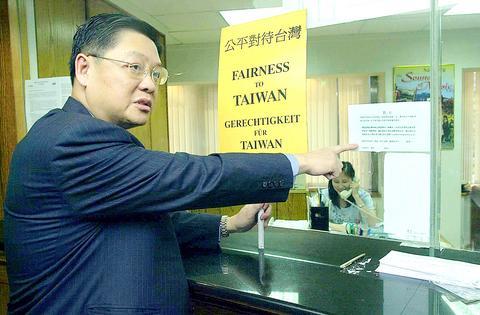 KMT Legislator Sun Kuo-hwa protests at the Austrian Tourism Office in Taipei yesterday to vent his objections to the office's practice of demanding financial statements from Taiwanese applying for tourist visas.
PHOTO: CHIANG YING-YING, TAIPEI TIMES
Comments will be moderated. Keep comments relevant to the article. Remarks containing abusive and obscene language, personal attacks of any kind or promotion will be removed and the user banned. Final decision will be at the discretion of the Taipei Times.